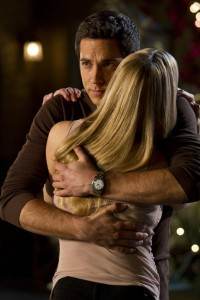 "All you need is the girl."
Welcome back Chuck fans, it sure has been a long time but this doozy of an episode sure did make up for the long wait; romance, comedy, action and a major plot development that I didn't see coming that will surely shake up this latter half of the season.
Yes all you need is the girl, especially when the girl in question is Miss Sarah Walker. Early on this season some of the relationship issues that Chuck and Sarah had mid mission were a distraction and verged on the repetitive. However the sub mission of the proposal worked this week, most likely because Sarah became involved, and rather than freaking out with the commitment of it all became a vital cog, worked with Morgan to make the proposal happen. The moment in which the proposal really almost happened was tender and sweet (aided musically by one of my favourites 'Slow Club') and showed why Chuck and Sarah being a couple and headed toward matrimony really benefits this show. Of course it could not run smooth but this obstacle of Sarah going undercover as a double agent is both a classic spy genre plot point and a way to open up this season and allow for more badass Sarah.
A reminder that Chuck has been gone for a while are the scenes that are troupes of the show; the party of the week (used in other Schwartz shows The OC and Gossip Girl), the Chuck-fu that has been missing with the Intersect but makes a big return in two nice fight sequences and having Sarah playing drunk and confused leading in to a fight sequence. Morgan playing the the co-ordinator of the proposal allowed for some quality scenes between him and Team Bartowski and and shows how Morgan has become integral to the team, especially on an emotional level. Casey hating France as much as he hates any former Communist country made complete sense and allowed for the requisite growls that will always get a laugh from me. Though Casey also provided one of the sweet moments of the episode that may seem out of character but fitted so well in the moment as he lit up a cigar; it's not about the perfect proposal, it's about the girl.
The Buy More sub plot with Jeff was good fun, not only for the bizarre transformation of the AV room into a 'Saskatchewan Hinjew' lair and because it gave us a Jeffster performance with Lester in leather rocking Whitesnake's "Is This Love?", losing his bride to be in the process. No Ellie and Awesome this week but I'm intrigued as to what story they will spin to explain Sarah's absence.
A really strong return from Chuck and a new avenue of story lines means that I am more than excited for next week and the rest of the season. What did you think? Did you see the Sarah double agent plot coming? Annoyed that the proposal was interrupted? Let us know in the comments below or join us in the forums. For a more indepth look at this episode check out Michael Salerno's recap here.