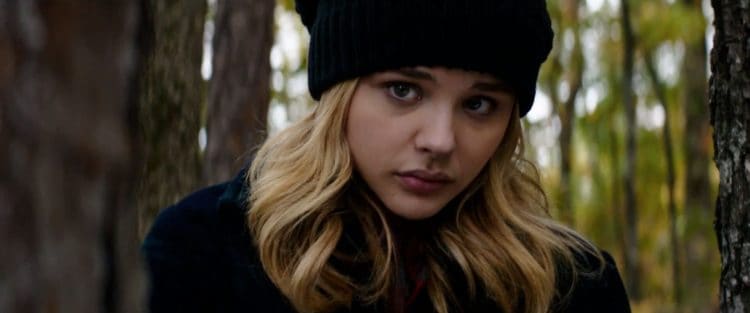 Is anyone else ready to see Chloe Grace Moretz back in action movies? It might be a while since her time on the show, The Peripheral at Amazon could go on for a bit, but it could also help to keep her moving forward as a serious actress and continue to establish that she is more than just an action star. After all, her time as Hit-Girl lasted two movies and was great, but it's nice to see that she can do more than this and really turn on the talent when she needs to. So far the series sounds as though she'll be playing an individual named Flynne Fisher, a woman that's attempting to keep her family together and has no prospects for her life or her future, at least until the future comes a-calling, at which point this starts to sound like a serious version of Shameless, but minus the humor and the large family. Already it sounds as though the show will be something that might stretch the acting talents of the young woman and possibly see whether or not she can really pull it off, but if there's a question in anyone's mind at the moment they might need to take a look at what she's done thus far and realize that Chloe is far more talented than a lot of people give her credit for. Some folks might find Chloe a little off-putting since she doesn't always act like a lot of people her age, but she's an incredibly mature young woman that is far more suited to playing serious roles as it's already been seen.
She's also a young woman that's grown up in the spotlight since she's been acting since she was very young and has a pretty firm grasp on what it takes to survive in Hollywood. Among the many people that start out at a young age, Chloe is one of those that has managed to weather a lot throughout the years since a lot of child actors suffer burnout at some point and simply go away or disappear into the ether once they've made a couple of movies. Some figure out that it was a mistake to get into the business in the first place since the attention they get is more than they want or doesn't allow them to have much of a personal life. Somehow Chloe has been able to deal with whatever the business has thrown at her since she's proven to be rather adept in taking roles that she wants and leaving the others, mostly those that are highly sexualized and don't offer much else in her opinion. Hey, people know what parts they want, and when it comes to having earned the right to say yes or no, Chloe has definitely paid her dues.
Seeing her in a series after so many movies might be odd for some folks that have never seen her appear in a longstanding role in a series, but TV is nothing new for Chloe since she's been featured in one show or another since she was younger. At this point in her career, it does feel as though she's attempting to find more mature and meaningful roles that will elevate her status and possibly get people thinking that she might be worth more as a lead actress than some might have felt in the past. This is a pretty valid opinion really since she's already shown that she can hang with some of the biggest names in show business and is likely ready to take on more movies at this point that would utilize her in a very mature manner. It's easy to see why she would be considered an A-list celebrity, but it would also be nice to see what she might be able to do if she were to head towards action movies again. The idea of not acting in overly-sexual roles isn't a detractor since she is a very attractive woman, but she's also someone that's easy to respect like many others since she's proven that she can take on a role and make it into something that is far more valuable to the project she's starring in than if she were to play the stereotypical role of someone that was meant to be sexualized.
Plus, it's been said many times before, but Chloe is simply mature beyond her years in a lot of ways. She's the type of actress that has been ready to take on serious roles since she was half the age of many individuals that she's worked with. Some people are unnerved by this, but others find it endearing since she can easily take on a role that asks more of her than others might. That's why The Peripheral might be just right for her.