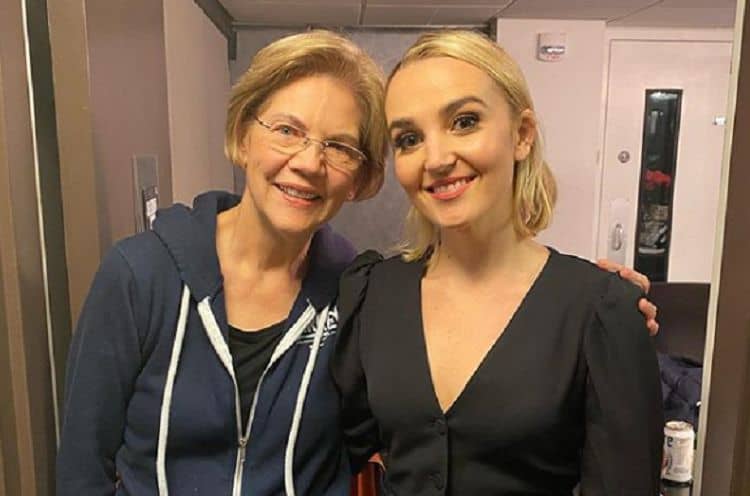 As Saturday Night Life is returning to our screens for its 45th season, two cast members are part of the mix: Chloe Fineman and Bowen Yang. Chloe is a rising star in the comedy with incredible impressions on Instagram and if she is not familiar to you, then read on to find out more. Chloe was born in California and grew up to become a comedian, actress and writer. She is doing well in comedy and appealing to many fans. Chloe has proven her skills in comedy and television as she has made many similar appearances. We are eager to see what Chloe will have for us in the Saturday Night Life which premieres on September 28, 2019. Here are some facts about Chloe that you need to know before the season starts.
1. She is good at impressions
Chloe Fineman is good at impersonations as we can see from her Instagram feed which is full of hilarious and diverse videos of her imitating celebrities. On August 13, she posted on Instagram that she does not "believe in that, girlfriend" when assuming the role of Kate McKinnon. Chloe backs up the impressions by tagging the person she is referring to in the Instagram posts. Whatever the person she is tackling, she makes it surprising and hilarious at the same time.
2. Family
Fineman grew up in California alongside her two sisters, Emma who is a visual artist and Alexia, who is an athlete. Her mother, Ellen Gunn, is a painter while her father, David Fineman, is a biotechnology executive. The family is of the Jewish religion, and when she was growing up, she attended a camp in a local synagogue. The father is keen on the religious upbringing of his children and is part of the main contributors in the synagogue. According to Forwarding, Chloe's dad is working on a case of conspiracy and theft at a Jewish cemetery.
3. Education
Chloe started her training in a local high school. She then joined the school of arts in New York but later moved to Los Angeles to study at Groundlings Theater. While in school, Chloe was always part of the competitions in the drama festivals and joined various clubs for acting. When she finished school, Chloe went ahead to perform with other organizations and became a good actress with time. She later focused on social media, and it became the platform for her to rise.
4. Her favorite things and hobbies
Chloe's favorite celebrity actors are Julia Roberts and Will Smith. She has some videos imitating both, and it gives viewers a good impression of the two. She loves music and travelling, and London is her dream destination. Her favorite color is red, while her best food is continental cuisine.
5. She has a net worth of $200k
According to the Gossip, Chloe has a net worth of $200k. She mainly gets her income through participation in product endorsements using her social media. Her net worth will increase by year-end as Chloe's popularity rise. Additionally, Chloe being part of Saturday Night Life will boost her earnings since cast members make $7,000 per episode during the first year.
6. She is single
Chloe has not announced her interest in marriage. Her relationship remains a secret, but it seems she is single. Chloe seems to be much into comedy and acting and is yet to settle down. She has not exposed any previous dating and has no kids. She is probably single, but if this is not the case, then she must prefer to keep her relationship private.
7. She releases new videos that unveil decorations in the White House
According to Stylist, Chloe is fond of impersonating the first lady. She loves the decorations that the first lady sets in the White House and always wants to emulate her. It is now her tradition to release a new video each time the first lady comes up with unique decorations in the White House. One impersonation that caught the attention of many fans was the Christmas decorations of Ivanka Trump. The fans loved the decorations and were also falling in love with Chloe's talent. One of the fans commented that he never knew how he found the impersonation but loves it.
8. She is gaining more fans on social media
Chloe depends on social media for most of her work, and the daily use of social media has been her way of reaching many fans. She has 90.7k followers on Instagram who are always eager to see her new videos since her funny posts make their day. Chloe makes use of her Instagram to advertise for some companies and individuals. She does not make great use of Twitter as she has only three posts and 7,328 followers. Once she showcases on national television how much gifted she is, then the fan numbers will increase.
9. She once had a dramatic weight gain
Chloe's journey to being the hot girl with the lovely figure came after some ups and downs. According to Player, at some point, Chloe used to eat chocolate in excess. The excess chocolate led to her thyroid being damaged, leading to a dramatic weight gain. With that weight, she could not fit well into acting, and she had to do something about it. Luckily, things worked out well for her, and she lost weight to get the beautiful figure that she has right now.
10. Her publicity remains low with the focus being on Shane Gillis
Many people who watch Saturday Night Life may not know Chloe. First, because she is a new member and secondly because the emphasis is on Shane Gillis. Shane portrayed racism in his podcasts, and the management fired him. Most fans of the show now concentrated on seeing him fired without noticing the entry of Chloe into the show.
Tell us what's wrong with this post? How could we improve it? :)
Let us improve this post!