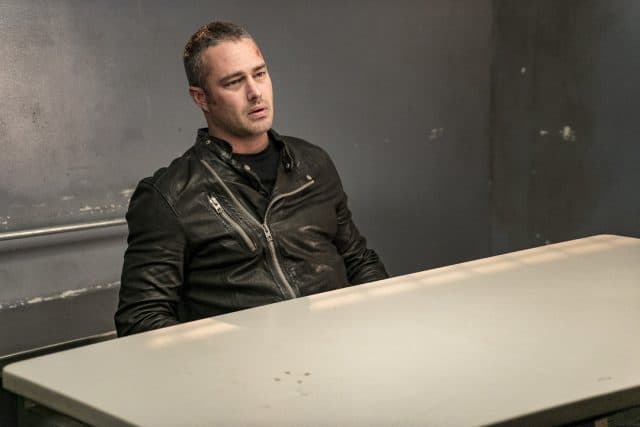 Picking up from the scene of an accident involving Chicago Fire Lieutenant Severide's car, Chicago P.D. tries to determine what exactly happened. Many a time in the last five years we've had to shake our heads as we asked "Kelly Severide, what did you do?" It's not that Severide is a bad guy, quite the contrary. He's just never been the most stable decision-maker. Yet there's one indisputable truth anyone who knows Severide would shout from the rooftops. As a first responder, Severide would never leave the scene of a crime. It's not Intelligence's job to protect him. It's their job to keep an open mind to get to the truth, even if they want to believe in Severide's innocence.
In the beginning it doesn't look good. Severide doesn't have the best history with sobriety. Not to mention that several witnesses swear to seeing Severide drunk right before the accident, and Severide can't defend himself well because he blacked out. Because a 10-year old girl died in the accident, Severide is held in custody. Both Mouch and Casey barge into Intelligence making pleas for their friend, but only the truth can set him free.
A GPS tracker on Severide's car is the first break they need. The valets at the bar Severide frequented have been tagging high-end cars to steal. A sting to find the car thieves results in a car chase that is something out of Fast and the Furious. It's more likely that guys who don't care about causing a bus accident in downtown Chicago during a chase with the police were responsible for the hit and run than Severide. Through one of Atwater's CI's, Intelligence finds the car thieves. The ringleader swears neither he nor his men were responsible for the vehicular homicide, but rather a third party thief was. Thankfully money pales in comparison to immunity, so it takes very little convincing to turn the ringleader against Intelligence's prime suspect. Good acting on the ringleader's part in a sting (which may or may not have involved holding the killer's mother hostage in the trunk of a car if the District Attorney asks) gets them their man. More importantly, justice is served to the right coward, freeing Severide. That's not to say he shouldn't be lectured for driving drunk, even if he was knocked out by car thieves after a few blocks. He wasn't responsible for that little girl's death, but he very well could have been.
Lindsay definitely had an emotional stake in the investigation because of her history with Severide. Though they didn't date for long, Lindsay knows him well enough that she defended him against those who wanted to condemn him on the spot. Jay was ready to do just that, even if he denied feeling wary of Lindsay's history with her ex. Part of it was Lindsay believing in a friend with her gut instincts. Another part of her attitude was using the case to avoid thinking about meeting her biological father, who Voight evidently knew. Is anyone else suspicious of Voight never mentioning that he knew Lindsay's parents before she was born?
This is also Burgess's first case with Intelligence. She's green to be sure, and pairing her with Olinsky is both good and bad. Being paired with an experienced cop is a good thing, but old school cops have a long memory. Olinsky isn't prejudiced against female cops, but he's not exactly impressed with Burgess's romantic history on the job. Again, he's not one to judge with his background. It just means he's wary of Burgess, especially if she's going to be a cop who lists off reasons she deserves a promotion. Burgess had to prove herself to make it to Intelligence, and it looks like she's going to have to prove why she deserves to stay there too.
What do you think this episode utilized well regarding the Severide/Lindsay friendship? Is Burgess really ready to be in Intelligence?
Chicago P.D. Season 4 Episode 9 Review: "Don't Bury This Case"
Summary
Lindsay must find out if her ex-boyfriend is responsible for vehicular manslaughter on the winter premiere of Chicago P.D.