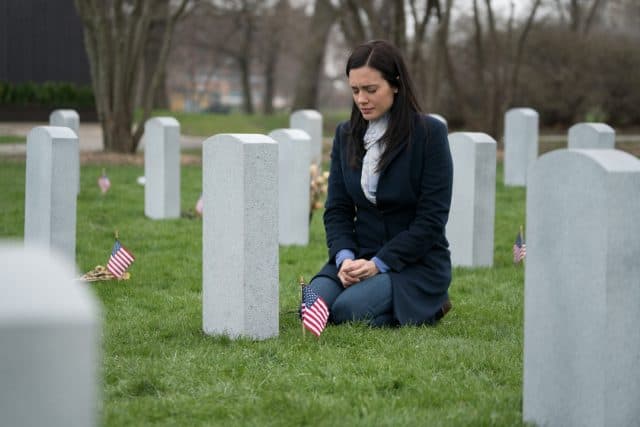 The theme of this week's Chicago Med was about letting people take steps of their own accord. Sometimes they need a push, and sometimes their wants and needs must be respected. Whichever the case, "Withdrawal" had plenty to debate.
Dr. Rhodes has a heart attack patient who cannot be put on bypass due to his beliefs as a Jehovah's Witness. The only option he and his wife are comfortable with is a bloodless surgery. It's an incredibly risky procedure that Rhodes is not at all comfortable with, but Downey tries to respect the patient's wishes. When the surgery goes awry, Downey lets Rhodes call in the wife to give consent for the normal procedure. She does because she doesn't want to lose her husband, but when he wakes up he is furious to have his wishes disrespected. They get through it though, and Dr. Rhodes learns a lesson the hard way. Downey reminds Rhodes that even if a patient's beliefs seem silly to him, it's important to respect them. Rhodes needs to pay attention to Downey's counsel while he can, since Downey's health has been in slow decline.
Dr. Charles and Reese treat two elderly woman who came in from a nursing home. At first it seems that they have nothing in common, and their symptoms don't seem to match anything in the usual form. They do however match a disease Reese doesn't even consider because, well no one wants to think of people old enough to be their grandparents doing that. Evidently the two women had the same gentleman caller, and the rest is history and a shot. This inspires Charles to agree to go out on a double date with Goodwin and her husband. Life is short, so you might as well get while the getting's good.
Dr. Halstead and April disagree on how to treat a frequent flyer alcoholic. He has terrible withdrawal symptoms, so bad that April believes reconnecting the man with alcohol will aid his short-term pain. Halstead really has come around to respecting the rules. He is furious with April for even suggesting the idea, and even more furious when he finds out that Goodwin went ahead and gave his patient that drink. Halstead is furious at the double standard, and by the looks of that phone call he made at the end of hour, he may have decided that moving to a new hospital might not be such a bad thing.
Natalie goes into a panic when she realizes she has lost her wedding band. She and Maggie tear the ER apart looking for it. Eventually the stress becomes so much that Natalie collapses. Simply put, Natalie went through an episode of "Broken Heart" syndrome. Natalie's mother-in-law of all people tells Natalie that it's time to move on with her life. You never really let go of the ones you love, but if it's affecting Natalie's health, then she needs to find a way to move forward.
Who do you think is moving forward in the right direction?
Chicago Med Season 1 Episode 17 Review: "Withdrawal"
Summary
Chicago Med may be a hospital, but sometimes you must remember the control we have over our own fates.