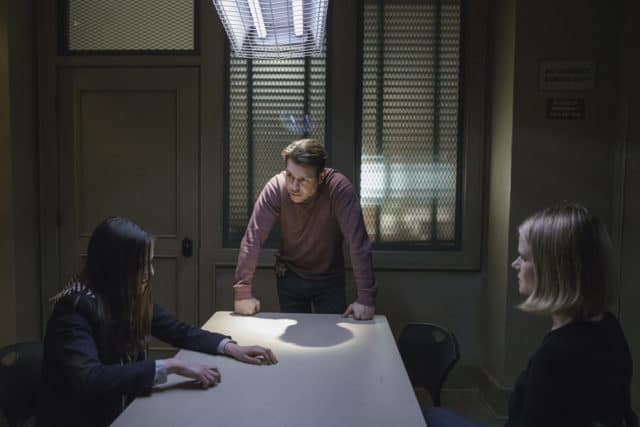 To clarify, the double jeopardy rule still applies to the same crime committed in the United States. It does not, however, cover separate crimes, and especially not crimes committed in two separate countries. Chicago Justice rips from the headlines where the prime suspect in the murder of a local college student is a friend who was acquitted for a murder in another country, but not before spending a significant time in their prison system. The media loves a case of the pretty, popular, and murderous. Bias is immediately a factor in the case, but it all comes down to the truth, and who has the most to gain from the murder.
Justice is brought in to investigate the death of Kennedy Malloy in a prison break-themed escape room. Abigail Chapman, one of the other participants, is immediately suspected because she was acquitted of murder while she traveled abroad in Spain, but she did spend three years in their prison before she was freed. Surprisingly, Jefferies is quick to jump the gun on her guilt. Abigail doesn't exactly do well to defend herself once Nagel and Dawson find her. She is extremely combative. The real reason Abigail ran was because the escape room was triggering, reminding her of her time in prison. The murder weapon is found near where Abigail was tied up, so even though she didn't commit the crime, being a material witness keeps her in the U.S., hopefully in the psychiatric ward for some time where she can heal.
Kennedy was actually killed because of her political beliefs. She'd clashed with one of her professors over her support for the NRA, and at some point the confrontation went beyond the classroom. Since it was physical and caught on tape, it would have been grounds for Professor Hall's tenure to be revoked. The prints on the gun come back to Bethany Pierson, another one of Hall's students. Pierson's lawyer basically uses Kennedy's defense in reverse. The pretty, rich girl has to be guilty, even if she's the one that's dead. After some back and forth, Stone and Valdez realize that Bethany was obsessed with her professor. She latched onto him as a father figure, and when she heard wht Kennedy was threatening to do, she took action. This case actually teaches Jefferies something about judging prematurely. College students are barely adults. Science tells us their brains are still developing, so they should not be making as many serious decisions as they think they should. Which is why Jefferies gives Abigail Chapman the benefit of the doubt, and makes a call to stop her extradition to Spain.
How much of these preconceived stigmas do we adopt before the facts of a case like this come along?
Chicago Justice Season 1 Episode 9 Review: "Comma"
Summary
Chicago Justice tackles a case which relies on the witness testimony of a publicly convicted college student, in spite of the truth.