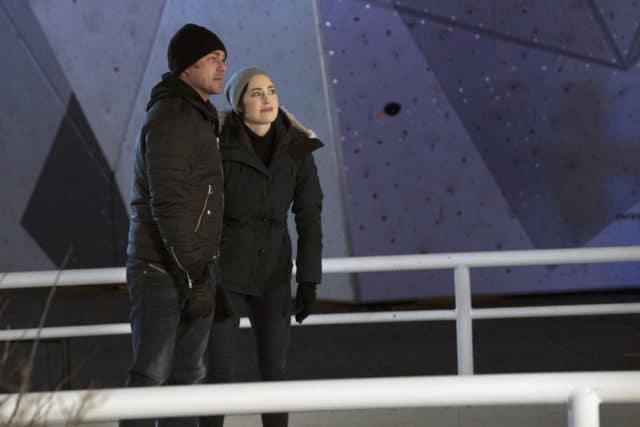 Chicago Fire always does what they can to help where they can. The point is not to assume that in this line of work you can help everyone, but that you do your best and hope that fate, or God, or whatever you believe in takes care of the rest. There's one thing we should all believe. Heroes are not made, they are built. Acts large and small with no expectations of gratitude in return are what makes a hero. Dawson has to teach a guy who doesn't understand that a lesson.
I love Stella and Herrmann, but if the business was left up to any one person, Molly's would have been bankrupt a long time ago. That's not to say that a bar crawl was a bad idea. On the contrary, Molly's makes back its investment and then some. However, some of their bigger ideas have tended to be big risk for little reward. Yet Otis is upset that Herrmann has never considered any of his ideas for Molly's, even when they were kind of bad. Hopefully Harrmann giving into one Otis's ideas not only saves their friendship, but proves Herrmann's point.
Casey is a heck of a firefighter, but when he took on the position of alderman, he made a deal to be available to his constituents. He has to listen to everyone, even those he doesn't necessarily like to deal with. This week he is approached by a veteran who can't stand the construction noise outside of his home. Remember the saying you attract more flies with honey than with vinegar. The minute the foreman rudely ignores Casey, the good alderman gets to work to find a way to shut down the construction. Even though the foreman never got proper zoning approval, the appeals process to stop the construction will take months to push through. The idea that he can't help one man get some rest is ridiculous to Casey, but what he can do is get the portable toilet off the man's property. Casey wishes that he could have done more, but it's great that this is one constituent who just appreciates what little his alderman could do.
Firehouse 51 responds to the scene of an accident where a baby is thrown from the backseat. It is an absolute miracle that little girl. Dawson's relief is tempered by her suspicions that the accident was not an accident. Sure enough, a piece of concrete did not fall onto the car causing it to spin out of control. The concrete was thrown by force. Dawson then hears about another accident where the same good samaritan motorcyclist just happens to be. The fury that Dawson feels fuels her mission to find the guy who Dr. Charles describes as wanting to be the hero of his own makings. I'd give the guy a good kick in the stomach for throwing concrete onto Ambulance 61, but nothing could be worse than purposely pushing an infant down a well. It's a good thing Dawson was held back from the guy.
After a long day at work, all these firemen want to do is find some peace with the ones they love. At the end of the day Dawson and Casey, as well as Severide and Anna, just need each other. A family of two is family enough.
Hit the comments for your thoughts on this week's Chicago Fire.
Chicago Fire Season 5 Episode 19 Review: "Babies and Fools"
Summary
Dawson goes beyond her duties with Chicago Fire to catch a man who creates his own victims in order to play the hero.