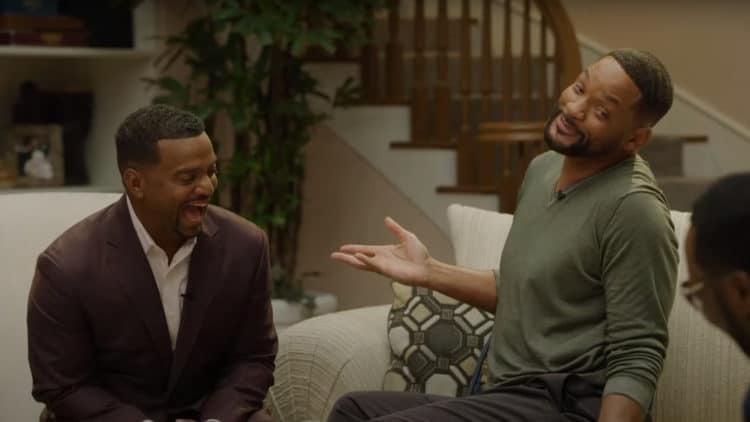 The Fresh Prince of Bel-Air reunion is coming and the hope is that a lot of people are going to watch it just because it's commemorating the fact that this show was once one of the greatest on the air. In fact, the only thing that could have made it better would be if James Avery were still around since like the rest of the group agrees he was the heart of the cast and he was one of the many individuals in show business that people wanted to impress given that he had such a great character. But seeing the rest of them is going to be a treat as well since it would appear that Will is bringing back both Aunt Viv actresses, Daphne Maxwell Reid, and Janet Hubert. It might not be the biggest bit of news at this point but Smith and Hubert did apparently have a bit of a feud going many years ago, but it's one that has been smoothed over since, and not including her would be kind of hard to imagine since she exemplified the character of Aunt Vivian for a while before Daphne came in to fill her spot. It's easy to think that there might be a little trepidation when bringing her into this reunion, but it still doesn't feel as though it could go any other way since Hubert and Reid both put their own spin on the character and both of them worked beautifully.
It's bound to be a lot of fun for fans to watch the cast sit around and reminisce about the old days and share memories of their time on the show. To think that Will Smith was worried that he couldn't act at that time is kind of hilarious really since he did such a good job during the show's run. It's also fun to learn that Reid didn't want to be on the show initially, but considering that the Fresh Prince was an idea that kind of in a class by itself for a while it wasn't exactly a sure thing for anyone since it was the kind of show that some folks had to get used to simply for the idea. But once it had been around long enough it's easy to admit that it grew on people and no one thought about Will being a rapper any longer since he'd established himself as a worthwhile actor and become someone that people could enjoy and even look up to.
Everyone likely had their favorite characters on the show since Will, Carlton, Ashley, Hilary, Uncle Phil, Aunt Viv, Geoffrey, Jazz, and even Nicky became a part of pop culture almost overnight once it was established the show was worthwhile and it could handle itself. After a while, they became a kind of a tightly-knit group that stuck together for as long as the show lasted, and it's fair to say that a few of them stayed in touch over the years, but all of them went on to do other things with their careers and lives. Bringing them all back for a reunion could be a good chance to get their take on the show and what they felt while they were filming it. There were so many great episodes that trying to pick from one of them when it comes to the best performance is difficult, even though the most emotional one when Will's dad leaves him a second time and Uncle Phil is there for him is undoubtedly one of the most talked-about episodes from the show. It managed to make clear just how Uncle Phil cared about Will and how much he tried to protect him since throughout many of the other episodes it was seen that Will was a bit of a pain in the backside at times and Uncle Phil was almost always forced to pick up after him. But in that one episode, the feelings ran pretty strong since it touched a lot of people in a very strong way.
This show was one of the best of its time without question and it's not too hard to think that a lot of people might want to catch this reunion simply to see what's happened to everyone and how they've been doing all this time. Obviously, all of them have gotten older, as some of them look as though the miles have been heaped on rather than weathered. But it will be good to see everyone that's still around, it's easy to think that fans are going to find it interesting to hear their thoughts on the show when it comes to what went on behind the scenes and what was happening while they were on camera. Just seeing them is going to be great, but hearing what they have to say about the show should be interesting.
Tell us what's wrong with this post? How could we improve it? :)
Let us improve this post!