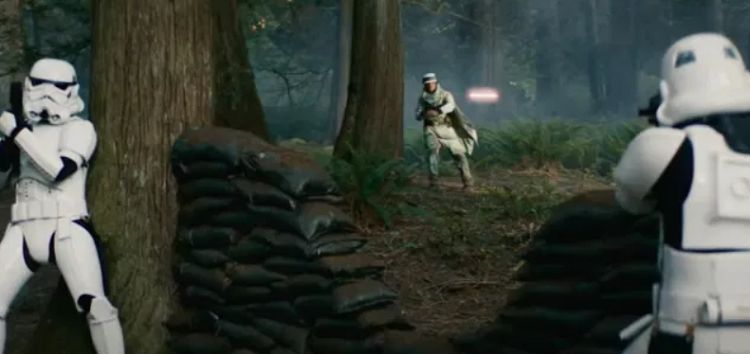 There's been a good deal of empathy and sympathy for stormtroopers and anyone else that's been on the side of the Empire for a while, and while it's had to grow for years until people really started to understand it, Bucketheads is going to be a very strong look at the plight of those that were fighting for a side that many believed was wrong. The argument here of course is that in war, most people that pick a side believe that their cause is just, that they're fighting for a better purpose, and that their sense of morality is what matters, while the other side is simply wrong for many different reasons. In Rogue One we did learn that the Rebel Alliance wasn't really made up of the most virtuous individuals and that even their commanders had to look the other way and focus on the main goal, not the overall moments that led up to each victory or contributed to a defeat. In other words, whatever side of a war a person finds themselves on, they'll likely believe that they're in the right and that the people that oppose them are wrong and need to be eradicated or at least fended off. It's difficult for a lot of people to see any virtue in the Empire and those that ruled it since the truth is that Emperor Palpatine was a very evil individual and despite his desire for a peaceful Empire and unified galaxy, the methods he used were often quite cruel and not at all inclusive. His rule was accomplished by fear, and earning his disfavor meant punishment on a level that would make many villains tremble simply because overkill is how Palpatine rolled. But the stormtroopers, essentially the lowest tier of the Empire, enlisted and earned their rank quite often because they were raised to believe that the Empire was in the right. Or it was simply the only way to escape a life that was going nowhere.
Set during the events of Return of the Jedi, Bucketheads looks to be taking on the plight of a group of stormtroopers that are stuck on the forest moon of Endor when the second Death Star explodes, which according to a couple of books on the subject is far more serious than many people who have only watched the movies might believe. This is when a person really has to think about other aspects of warfare and the idea that a station such as the Death Star had more than combatants aboard, as did the Star Destroyers that were being targeted left and right. The Rebels weren't entirely wrong in their bid for freedom, but detonating a moon-sized battle station that housed those who believed in the Empire and those who were simply there because they needed employment or something to do with their lives turned this into a troubling victory in the minds of some since to be certain, not every person involved with any war is there by choice, nor do they always believe in the cause of the side to which they belong.
The Rebels were forced to turn to criminals quite often when it came to recruiting, either because said criminals had military backgrounds, were simply good fighters or had skills that they prized for various reasons. On the other side, the Empire often trained many of its people to become ruthless killers and to follow orders at all times. This would appear to be a big part of Bucketheads since one would imagine that a lot of the Imperial forces might have kept fighting even after the Death Star blew up since not everyone knew that the Emperor had been aboard, and the literature surrounding this event made it clear that a lot of Imperials were spreading rumors over and over after the explosion, and that those who survived went into hiding or were simply doing their best to survive. Being a stormtrooper wasn't an enviable position to begin with when facing down Rebel soldiers, but the series is looking as though it's focusing on a band of stormtroopers that have seen the destruction of the Death Star and are now trying to figure out what to do next and how to survive, and perhaps how to rejoin the Imperial forces that they might expect to help them out. In any case, it's bound to be an interesting series, and it already has the look of something that will elevate it quite a bit above the average fan film since the trailer looks amazing. It won't be too long now before Bucketheads is going to be released, and it's bound to happen that we'll be watching it, so there will be plenty more to say. Learning a little more about life on the side of the Empire could be eye-opening.