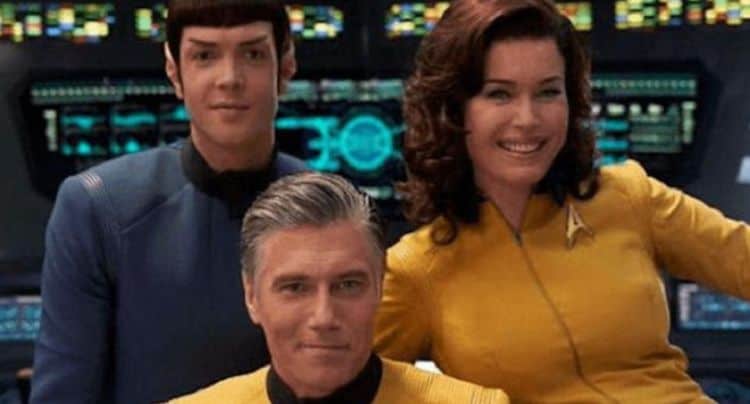 Jeremy Dick of TVWeb would probably agree that a lot of Trekkies are going to be looking forward to a Pike-led show this time around as the character's popularity has been growing steadily throughout the years. There have been plenty of captains throughout the years but obviously only a few have ever been given the kind of regard that's reserved for the best among them since Kirk and Picard have enjoyed their run as two of the most iconic captains in the entire franchise. Pike however is the guy that essentially made Kirk who he is, in a sense, and came before the famed captain anyway. Bringing in a young Spock and a different Number One with Rebecca Romjin filling the role is bound to appease a lot of Star Trek fans as well. Whether or not it's going to go down in history as one of the best Star Trek shows ever is hard to say since fans tend to argue over who's better all the time, but the gist of it is that Pike and his crew are going to bring back the interest in the franchise that has, admittedly, been flagging for a while no matter what anyone wants to say.
Star Trek: Strange New Worlds is set to take on the task of getting fans back into the idea of someone that came before Kirk or Picard and will feature a younger Spock and a different Number One than many people grew up with considering that Will Riker was the most popular Number One for a long time. Jordan Hoffman of Vanity Fair has more to say on this. In a sense this show isn't really re-inventing the wheel so to speak but reminding people why the invention of the wheel is just as monumental as the wheel itself. The upside is that so far Star Trek fans are on board for the most part with this idea, especially given the love that a lot of people already have for the cast. Anson Mount has been a solid TV actor for some time now while Ethan Peck and Rebecca Romjin have managed to create and cultivate their own fan base as well. It's fitting that Pike, who was in fact the first Enterprise captain when the series initially kicked off, before Kirk arrived, was left on the cutting room floor after a while since William Shatner's character kind of took over, would return after so long to a huge outpouring of fan approval. Given that only two captains have really ever caught the attention of the fans it's nice to see that another will be stepping up after the fan base voiced their approval of him in Discovery.
It might be a while before we're finally given the chance to see how this tale will really unfold unfortunately since the shutdown is still in effect and there's no telling just what might happen between now and whenever the show finally airs. But the idea is still sound enough that it should be able to weather the time between that moment and now without fault. Star Trek fans are bound to keep writing in and will probably keep checking on the status of the show to see what's going on and how much progress is being made. At this time a lot of people are likely getting a bit tired of hearing how the coronavirus is still continuing to keep the entertainment industry at a virtual standstill, but the reality of it is that since social distancing doesn't really work on a movie or TV set, the sad fact is that no show or movie that features more than one individual is bound to go full steam ahead until the all clear is given and things can progress as usual. Even then unfortunately it's bound to happen that safety measures will be put into place that will require various practices that will keep the cast and crew as safe as possible, and will likely hamper production even further. The shows and movies that are still on hold aren't going away thankfully but it is a bit frustrating at the very least to see that they're being kept from moving forward in a way that could give people a bit of hope that they'll be seeing some of their favorite faces on screen very soon.
For the time being there are plenty of chances for people to catch up and find out just what the hype about Captain Pike is all about by watching Star Trek: Discovery in order to really get into the idea of seeing Pike and his crew again as one gets ready for Strange New Worlds to release. It sounds as though the cast is excited to make this happen, and the fans are doubly excited so hopefully things start moving along sooner rather than later.
Tell us what's wrong with this post? How could we improve it? :)
Let us improve this post!