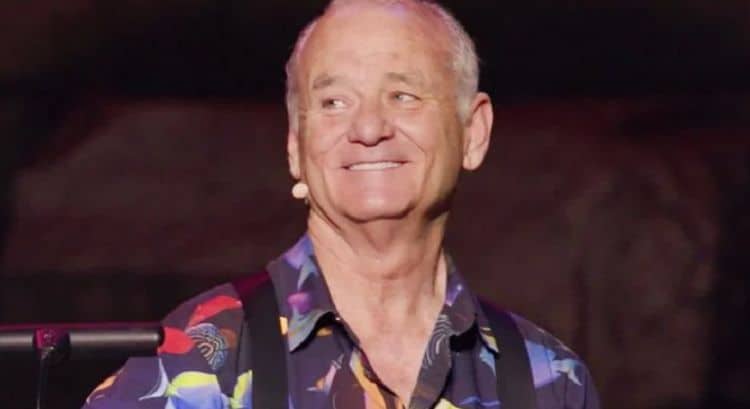 There's no way to deny that Bill Murray has been a great entertainer for many years now, and he appears to get better with every year. But what's also obvious is that the older he gets the more he leans away from the same type of acting that saw him through a lot of his younger years. He's been funny, he's been serious, but he's always been great since he brings a level of passion to his performances that is usually quite easy to see even if not everyone notices or appreciates what he has to offer. This time around it would appear that Bill is putting up a concert experience in New Worlds: The Cradle of Civilization. From the trailer, it looks as though we'll be getting the low-down on how the concert was put together, what went into it, and of course who was on stage with Bill as well. This is a different type of performance from Murray, as he's made his career off of comedies and dramas for so long that it might surprise some to see him in this manner.
A lot of people might think it's pretty normal and natural for Murray to do this since he usually ends up doing something that people didn't expect and makes it a lot of fun. The style with which he's making this movie happen is nice since it's light and not overly funny but definitely touching and filled with plenty of heart. Some might want to think that it's just Bill Murray showing that he's, as usual, being insanely extra and going in a direction that's all his own, but that's kind of what people expect from him, especially since he's been doing it for so long. This is how Bill rolls if one wants to say it that way since he's always marched to the beat of his own drum.
There are a lot of cliches that can be used to describe Bill Murray since he's helped to further a lot of them in his career, both ironically and practically. But something like this definitely shows a side of him that a lot of people might not know about yet. Those of us that have been around long enough have seen Bill take on so many different roles that it's hard to predict what he's going to come up with next. But when something like this comes along it's easy to just sit back and smile while saying, "Yep, that's Bill Murry, one hundred percent.". It's the recognition that this man is someone that doesn't conform to what we might think of him all the time, but will gladly fall back into it when he has the time or inclination to do so. Otherwise, he's off doing something that might appeal to him at the moment and that he feels passionate about. If people are appreciative of that then great, if not, then oh well, he's still going to do it. There's not a lot else that can be said about Murray other than the fact that he is one of those unique individuals that would be fun to know in real life, maybe.
Performing along with Bill will be world-renowned cellist Jan Vogler, violinist Mira Wang, and pianist Vanessa Perez, who will be Bill's musical department for this project and will be lending their expertise and skill to his vision. From what's been seen in the trailer it's bound to be something that many people will enjoy and that will likely give a lot of folks a bigger and more in-depth impression of Murray that they might not have expected to cultivate. One thing about Bill is that as he grows older he definitely continues to take on projects that people expect, such as his upcoming role in Ghostbusters: Afterlife, but he's also bound to do things that are a little more meaningful and perhaps less comedic. This performance is no doubt going to be something that will have people talking for a while as they try to sort out what it was all about and bask in the idea that Bill Murray is a very deep individual that enjoys entertaining people in whatever way he can.
For those long-time fans of Murray, it's not too hard to expect something like this since Bill has been fairly consistent when it comes to filming comedy and then something that has a little more meaning to it. This is one of those unique times when he's done something on this level, but it's not the first time that he's gone without making people laugh uproariously since he's starred in plenty of movies that weren't meant to be insanely funny. But that's why he's such a great actor, as he does things that people like, but he also does things that he likes, and in the process, people end up liking the same thing.