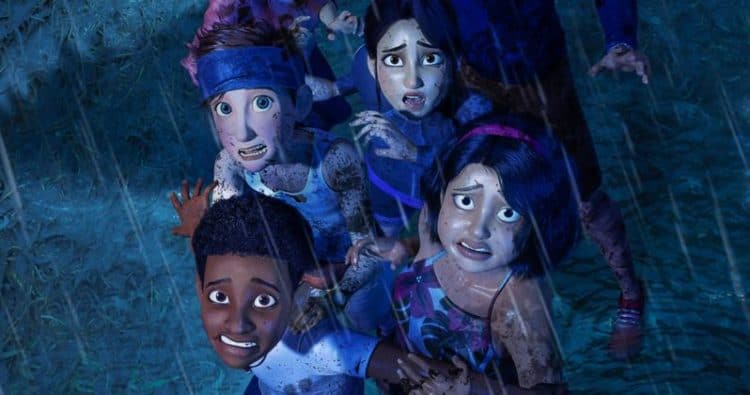 So there's something worse than the I. Rex now? That's super, especially when dealing with a bunch of kids who are smart but are still kids. The thing about Camp Cretaceous is that it's not really any more sensible than the rest of the Jurassic Park/Jurassic World movies since to be serious about this, they're dealing with DINOSAURS. In other words, creatures that are driven by very basic needs and aren't bound to be bargained with or defeated through any means other than superior planning and application of said plans. But looking at things from a point of view in which the sense of it all isn't as important as the story, Camp Cretaceous has at least been entertaining and has done what it can to bring viewers a quality show that has so far been kind of interesting. The third season of the Netflix show is already looking to be something that viewers will enjoy since the danger level is being ramped up once again as Dr. Wu's experimentation is taking another turn as something that will turn out to be even more aggressive and therefore more dangerous is about to be unleashed. Plus, the campers can't get off the island thanks to a tropical storm that's keeping them stuck. On top of that, the island's natural threats aren't going to stop making life difficult as the teens are forced to find a way to survive and outwit the creatures that are fully ready to turn them into their next meal.
The one thing that a lot of people would hopefully agree to is that bringing dinosaurs back to life, even if it were possible in the same manner that Jurassic Park depicted, is not a great idea since, unlike the animals that people have known about over the course of humanity, the mere idea of something that's big enough to devour a human existing in the same time period is kind of hard to get behind. Plus, the fact that Dr. Wu has been experimenting with DNA to create so many different wonders over the years is enough to make many people feel that putting their lives in the hands of something created by a narcissistic doctor isn't the best option. Trying to trust someone that followed the word of a person that wants exhibits to look 'cooler' and wants the creatures to have more teeth and look more impressive isn't bound to happen that easily. But the fact that the teens are finding out what Dr. Wu has done, and the idea that Dr. Wu might have been mauled by one of his creations, puts a bit of a spin on the story that might take it in a different direction that people won't be expecting. The dreaded creature known only as E750 is bound to be a big sticking point as well since the teens have already deal with a number of creatures that should have made it nearly impossible to see the next day.
It's definitely hubris that would make humans think that bringing dinosaurs back to life would be a good idea since humanity does have this irritating quality that makes us want to think that we can control anything and everything we see, especially if we have a hand in creating it. But with dinosaurs, as has been seen in the movies and in Camp Cretaceous, control is something that people rarely have unless it's over their own actions and emotions since the dinosaurs don't really care to be controlled, kept, or denied when it comes to their freedom and their ability to survive. The sense of Camp Cretaceous is bound up in the enjoyability that comes from watching teenagers outwitting creatures that aren't that bright but are more than a little cunning since instincts have a way of helping them survive through one encounter after another. The whole ball of wax that's been spinning since Jurassic Park has taken on a life of its own in many different ways as people have enjoyed seeing the different stories that have emerged from the Michael Crichton novel that put everything into motion so many years ago. While the story has definitely gone deeper and changed, the fun is still there and the many debates and discussions are still around as well as people continue to talk about what it would be like to share this world with the long-extinct creatures that once roamed the very different world of that time.
Season 3 of Camp Cretaceous already looks like it's going to be interesting as well as action-packed, and it's fair to say that there will be plenty of comedy to go along with it as the teens have to figure out just what E750 is all about, and how they can possibly get off the island once and for all.