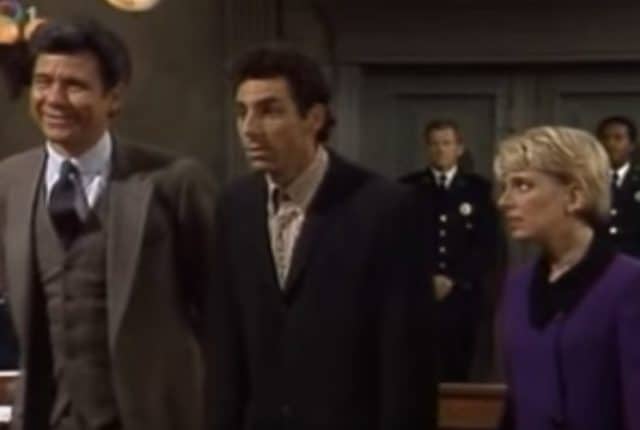 Night Court was a 1980's comedy starring Harry Anderson and had running through its court system many future stars, such as Michael Richards, Brent Spiner, Gregory Itzin, Nancy Marchand, and Susan Diol. Most of the show took place in Judge Stone's courtroom with every kind of wacky personality you can imagine. It is likely many of them were taken from the real life events at a night court in New York. John Laraquette was the district attorney, and various women played the public defender throughout its 5 year run.
In this clip, Eugene Sleighbough believes he is invisible to people. He has rational justifications, such as when he is sitting in a doctor's office or restaurant, people say things like, "I didn't see you there." He is arrested for burglary, and his defense attorney claims he has a mental problem. Richard's portrayal of this character is very similar to how his major success with Kramer in Seinfeld came to be. Regardless of the reality around him, he manages to slant the truth or reality just enough to make it seem plausible — if you are willing to let your imagination run wild. When Larry David made Richards the choice to cast as Kramer, he couldn't have done better.
By the end of the show, he realizes that the reason people saw him was because he had clothes on. In typical Richard's comedy style, he shows the obvious way to solve the problem. While the trademark delivery style is there, unfortunately, not much of his physical style shows up.
The quirkiness of Sleighbough fits Richard's attitude and tone perfectly. Just assertive enough without coming off as aggressive, strange enough to be believable (because we all have our own quirks), and looney enough to warrant being held for psychiatric evaluation, he manages to avoid being legally, certifiably, crazy.
It took only a couple of years after the end of the Night Court series for Richards to make his debut appearance on the pilot episode of Seinfeld. He would later tell Jerry Seinfeld in his Internet series, Comedians in Cars Getting Coffee, that the role of Cosmo Kramer was one of the easiest acting jobs he had, saying anyone could have played the role. We have to disagree. (By the way, did you know that Kramer had a dog in the pilot of the series?) If you have any suggestions about who could have played the role better, feel free to let us know.
The funny thing about Michael Richards is that his physical appearance hasn't changed much over the years. (Please take into consideration that he has reached senior citizen status.) Though he has tried to get back on track after the fall from grace he had after Seinfeld, he reappeared on television in a two year stint as Frank in Kirstie. He declared he was giving up standup comedy in 2007, so it is likely that, like Eugene Sleighbough we have seen the last of Michael Richards. But his unique comedic style and inseparable connection with the Seinfeld quartet will be remembered for many years to come.
Save
Tell us what's wrong with this post? How could we improve it? :)
Let us improve this post!