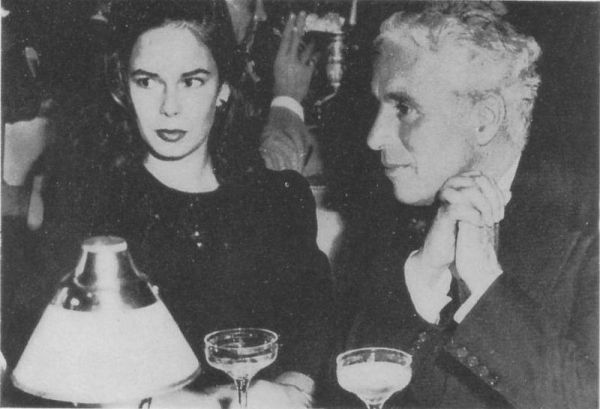 It's kind of hard to really know whether to feel bad for Charlie Chaplin or shake your head and think 'you cradle-robbing rogue'. Either way he was a great actor and a very influential person in Hollywood until he was told that he could no longer enter the US again unless he answered for his apparent communism and adulterous ways. While the latter was something that might have been thrown around by a bitter ex-wife, the former was something that left Chaplin appalled and more than a little eager to leave America and never return. Unfortunately when he left there was the matter of something he left behind that he couldn't entrust to anyone except his American-born wife, Oona.
The couple met and married when Oona was only 18 and Chaplin was 53. He'd already been through three divorces and was ready to move on and Oona was attempting to break into Hollywood and become a famous celebrity. Their marriage lasted for 34 years during which time they had eight children and managed to smuggle a million dollars in American currency from their home in Beverly Hills without anyone being the wiser.
Chaplin had already made up his mind about America and his chances of going back, stating "I would not go back there even if Jesus Christ were president." That was a pretty bold statement but it was also one that seemed very justified since Chaplin wasn't going to be allowed back in unless he allowed someone that cared nothing for him to rip his life and his family's apart in an attempt to discover his loyalties. Honestly I don't think I can blame him for leaving and not wanting to return, but there was the matter of the money he'd buried in the backyard of his home at the time.
He'd buried his first million dollars in the backyard as a means of keeping his family financially prepared should anything happen. According to Jane Scovell, and author that wrote about Oona and Chaplin, "…when you come from the kind of poverty Chaplin did you believe it." In other words, since Chaplin had known poverty and what it was like he had decided that he never wanted to go back to it. Thus he decided to bury a good chunk of money for later on.
Upon making his decision to never go back Chaplin wasn't sorry, but he did send Oona, the only person he could really trust, back to their home in Beverly Hills to retrieve it. She went back under the excuse of needing to visit her sick mother, but while in America she packed up the Chaplin's home, retrieved the money, and, as rumor has it, transferred it to thousands and then sewed it into the lining of her mink coat.
There's no real way to tell the veracity of this story but many people have vouched for the Chaplins over the years and agree that Oona did in fact place the money in her coat and made her way back to her husband. They lived in Switzerland as exiles apparently, and the only time Chaplin ever came back was to accept an honorary Oscar.
It took the academy long enough.
Tell us what's wrong with this post? How could we improve it? :)
Let us improve this post!