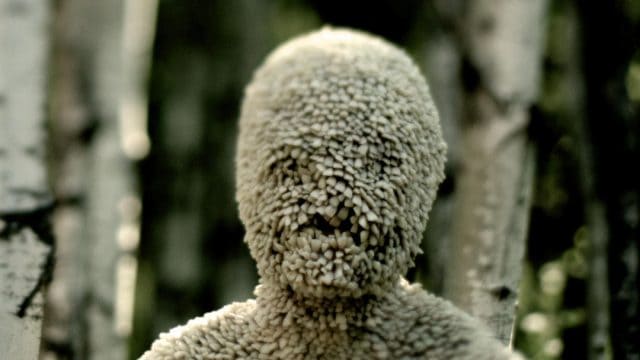 If you've followed even a little of my writing at TVOvermind, you'll know that I'm a huge fan of horror. In particular, I absolutely love horror on television (as I've mentioned quite a few times), and I think that some of the most effective horror storytelling is done through an anthology format.
The television gods have smiled down on me, and tonight, Syfy is debuting their new horror anthology series Channel Zero. In the vein of American Horror Story, Channel Zero will be a season-long anthology, and each season will tell a distinct story. Unlike everything else on television, though, this series will be adapting "creepypastas," the internet-based "folk lore" and storytelling that's captivated audiences since its creation (think Slender Man, The Rake, or The No-Sleep Podcast).
The first season of the series is titled Channel Zero: Candle Cove, and it will be a six-episode long story adapting the "Candle Cove" creepypasta. Ahead of tonight's premiere, I got the chance to ask Nick Antosca (Hannibal, The Forest), the series' showrunner, a few questions about the upcoming season.
TVOvermind: Talk to me a bit about the development of the show. How did you settle on the idea of creepypastas as the source material? What was it like turning this sort of internet folklore into an actual television show?
Nick Antosca: A good creepypasta is like concentrated nightmare fuel. The best ones are short, sinister, and built around a great concept. They tend to suggest mysterious, sinister forces at work in the greater world. My favorite ones remind me conceptually of some of my favorite Thomas Ligotti short stories, like "The Clown Puppet," although the writing style is radically different. I had been a fan of creepypasta – and Kris Straub's "Candle Cove" in particular – when I heard that Max Landis had optioned the rights to "Candle Cove." So I proposed doing an anthology with a different story featured each season. Each season is a six-episode adaptation of a single creepypasta. And because the original stories are extremely short (and sometimes, like in the case of "Candle Cove" not even traditionally structured), our goal is to preserve the ideas and images and sense of dread that make the stories cool, but expand and build on that to tell a more narratively complex story and explore the themes under the surface.
I think a good season of Channel Zero should feel like the nightmare you have after you read the story it's based on.
You've worked on horror television before, but how is Channel Zero different?
One thing we're doing that – to the best of my knowledge – no other show is doing is using the anthology format as a showcase for new directors from the world of independent film. Every episode of the first season was directed by Craig William Macneill, whose first film The Boy blew me away. (It's the psychological horror film from 2015 about a young serial killer – not the living doll film of the same title from 2016.) It's a beautiful, disturbing film – very very cinematic and extremely atypical in terms of what you'd normally see on Syfy or any other network for that matter. We want to find collaborative auteurs like Craig each season – directors with distinctive cinematic voices. I write and think very visually, so there's a clear direction and starting point, but then the director is empowered to bring their own voice to the script and their own ideas on top of that, and each season will look and feel radically different.
Also, our budget is extremely low – take the budget of two episodes of some network shows I've worked on, and that's an entire season of Channel Zero – so it's super valuable for us to have resourceful directors with experience making low-budget films that still look beautiful and cinematic. Hannibal and Twin Peaks and The Returned – French version – are the best examples of TV horror that inspired us. I learned so much working for Bryan Fuller on Hannibal, and Channel Zero is definitely influenced by experience.
For you, do you prefer anthological storytelling like this, or do you think it just depends on the story at hand?
It depends on the story, but all other things being equal, I prefer anthological because you can see the finish line, story-wise, and you don't have to create filler. Six episodes is the perfect amount of space to tell one of these stories, and then you get to totally reset and make a whole new movie for the next season.
Talk a little bit about the content of Candle Cove in particular. The teasers that have been released definitely give a certain vibe, but what kind of horror is this season going to tap into?
Channel Zero is a different kind of horror on TV. It's psychological, very measured and deliberate, and designed more to create a sense of dread and menace as opposed to delivering gross-out moments or jump scares. "Creepypasta" is a silly word, and there's a campy version of this show, but this isn't it. I like horror that's cinematic and strange, and that's what we went for here. Kris Straub's story taps into something that's so familiar and strange – you half-remember something from childhood, but you don't know where it came from. And it feels like if you scratch the surface, you'd find something very sinister underneath.
Since Channel Zero is an anthology, how much work has been put into the second season before the first has even aired (since two seasons were greenlit at once)?
A ton of work has been put into the second season – we're shooting it right now. We shoot in Manitoba, so it's already freezing cold, and we've been shooting at night all this week in a rainy cornfield. The actors have to pretend it's balmy weather, so it's intense. We're halfway done the shoot. It's based on Brian Russell's story "The No-End House," and it's directed by Steven Piet, whose film Uncle John I loved. (Oddly, it was at South by Southwest with Craig's film The Boy.) I'm really excited about it.
Finally, what can you preview about the season?
Here's a trailer that Craig cut in the editing room:
[youtube https://www.youtube.com/watch?v=9Wp2FJ5foLw]
---
I want to thank Nick for taking the time to answer some of my questions, and I encourage everyone to check out the series premiere of Channel Zero: Candle Cove tonight on Syfy. Afterward, check back on TVOvermind for my review of the premiere!
Are you looking forward to Channel Zero: Candle Cove? Let us know your thoughts in the comments down below!
[Photo Credit: Syfy]