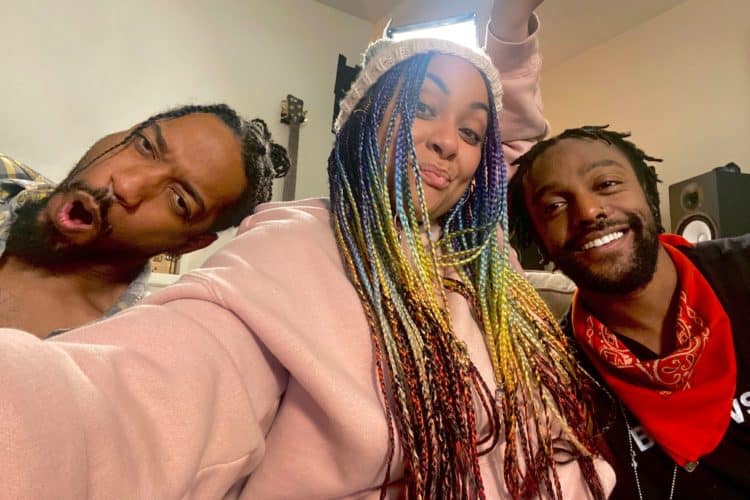 If you've always had a sneaking suspicion that underneath all the designer bags and luxury cars, celebrities are just like the rest of us, then you weren't wrong — at least as far as their viewing habits are concerned. Celebrity Watch Party is Fox's new take on reality TV, and if the early signs are anything to go by, it's going to be a cracker. The premise is simple: take a bunch of celebrities, put them in front of the TV, and then film their reactions. The result is pure entertainment. Find out more with these ten quick facts.
1. It's based on the British series Gogglebox
Celebrity Watch Party might seem a new and novel concept to US audiences, but in the UK, the format has been around for years. The show is based on the long-running British TV series, Gogglebox. Since its launch in 2013, Gogglebox has become something of an institution, attracting a huge percentage of the viewing population and making celebs out of its previously unknown participants. Over the past few years, Gogglebox has won a clutch of BAFTAs and National Television Awards, as well as spawning several spin-offs, including the hugely popular Celebrity Gogglebox and E4's Vlogglebox.
2. It was pushed forward because of COVID
COVID-19 has a lot to answer for, not least a complete shake-up of the TV schedule. Due to the effects of lockdown and social distancing on the filming industry, Fox has been forced to push back the release of several scripted series until later in the year. Fortunately for fans of reality TV, the shake-up has opened a window for several new, unscripted shows to take center stage, Celebrity Watch Party and Masked Singer: After the Mask being two of them.
3. It's got a great line up of celebrities
If you were worried the celebs on Celebrity Watch Party would be celebs in name only, you can rest easy. By some miracle, Fox has managed to line up some of the biggest and most popular names in showbiz. Of the episodes shown so far, we've seen appearances from Tyra Banks and her mother, Romeo and Master P, Steve Wozniak and his wife, Robert and Kym Herjavec, Curtis Stone and Lindsay Price, Meghan Trainor and her family, Joe Buck and Michelle Beisner-Buck, Sharon Osbourne, Ozzy Osbourne, Kelly Osbourne, Rob Lowe and his sons, JoJo Siwa, and Raven-Symoné. Reggie Bush and his wife Lilit, and Justin Long and his brother Christian.
4. More celebs are expected
So far, we've seen a great line up of celebs – but it's not over yet. While many of the stars we've already seen are expected to make return appearances in future episodes, several other big names will soon be joining their ranks … although as for who they are, we'll need to keep watching to find out.
5. Stars like trash TV too
The premise of Celebrity Watch Party is simple — take a bunch of stars and their families, stick them in front of a TV, and then start shooting their reactions. The beauty, of course, is in seeing just how similar their reactions are to ours… and in finding out that – surprise, surprise- stars like trash TV just as much as we do. So far, we've seen them watch Nailed It!, Pimple Popper, Entertainment Tonight, Gordon Ramsay's 24 Hours to Hell and Back, The Joy of Painting, Kings of Pain, and Dirty Dancing… all the same shows as us then. And judging from how they react, they feel much the same about them as we do… who knew we had so much in common with Tyra Banks?
6. It's scheduled viewing
If Celebrity Watch Party continues to be as much fun as it's proved so far, it's set to turn into schedule viewing (i.e. the type of show you remember to watch because of the giant x in your schedule). If you haven't yet had the pleasure of watching, tune in on Thursdays at 8 p.m. on FOX.
7. It's not scripted
Hearing stars speak without a script or a team of publicists dictating their every word is a rare thing indeed these days… which is a big part of what makes Celebrity Watch Party such compulsive viewing. Every word that comes out of the show's guests is raw and unscripted — something that, apparently, was just as much a reason for them to sign up as it's been for us to watch. "It's not curated, which is why I really wanted to do it," Raven-Symoné tells The Post. "The fact that I'm in my own space with my friends and you're watching it with me – and there are not 15 people from lighting standing around – it felt more personal," she says. "And therefore you got more of who I am. That's what I like most about it."
8. It's proving that TV isn't dead
For a while, admitting to watching TV was a social no-no. And then along came Netflix, Hulu, et al, and suddenly, it was OK to admit to spending our weekends binge-watching TV and eating popcorn. Discussing how Celebrity Watch Party perfectly illustrates how TV has once again become a central part of our lives (not that it ever wasn't, but now, at least, we don't have to hide it), Stephen Lambert, CEO of production company Studio Lambert, says: "It's a show which asserts the indispensable role of TV in the fabric of people's lives and the way it's at the heart of the nation's weekly conversation, especially in these unusual times."
9. Tyra Banks loves Pimple Popper
If Celebrity Watch Party continues in the same vein as it has so far, we're set to learn plenty of little secrets about some of the featured celebs. Who knew, for example, that Tyra Banks is a huge fan of Pimple Popper? As the show featuring dermatologist and Internet celebrity Dr. Sandra Lee came on, Tyra and her mom Carolyn did little to conceal their delight, with Carolyn exclaiming 'Pimple Popper? Love it!' and Tyra pumping her arms in excitement. A few other choice little tidbits we've learned: Carolyn has a habit of chasing people down to pop their pimples and Tyra once had to physically restrain herself from popping a pimple on the back of someone's neck in a grocery store queue… who knew?
10. The celebs are doing their bit for charity
Sometimes, reality shows featuring celebs are clearly little more than an excuse for said celebs to raise their waning profile. For most of the stars of Celebrity Watch Party, however, their status is already big enough that they don't need to go to the effort of increasing it. As The Daily Mail reports, the true reason for many of the celebs signing up (other than giving us the opportunity to watch them in their natural habitat and prove how 'down to earth' and 'normal' they are) is for a good cause. Rob Lowe has already said he plans on using his fee from the show to support one of his and his son's favorite charities, Best Buddies, while the Osbourne's have also confirmed they'll be offering up their money to their fave non-profit, Feeding America.