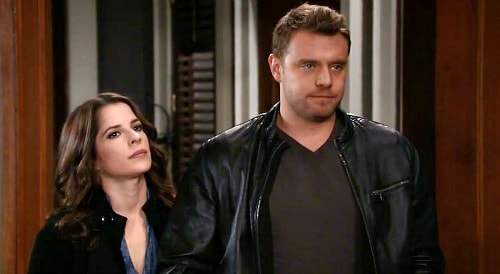 General Hospital fans love Father's Day. It's a good day. It's a day when people are able to give themselves all that they need. It's a day when things are good and happy and wonderful, and it's a day to celebrate all the best dads there are out there. It is the kind of day that we always love to celebrate because it means so much to us to have such great dads out there. Since we also made the decision to celebrate all the awesome moms out there yesterday, we thought we might spend some time today doing the same with Dads. It's their day, so we want to go through and take a look at some of the best dads we can find in Port Charles. They're pretty good, even when they mess up.
Sonny
He might be imperfect, but he loves his kids. He might have some big issues, and he might have had some bigger issues in the past, but he does love his kids. He would do anything for them. He would protect them with his life until the day he dies, and he's made that clear more than one time. He's done all he could for his kids, despite his shortcomings and his times of desperately poor behavior.
Jason
He's a man who doesn't always have much to say. We like to think of him as the strong and silent type, but he's a man who seems to feel a lot. He feels good about his kids. He loves them. He wants to treat them well and be with them and make sure they are healthy and happy and free of problems in their lives. He'd do anything for them, or for any of the kids he loves the most.
Drew
He's a man who didn't even know he had a son in Oscar, yet he did what he could to make sure that his own son got to live the life of his dreams when he was able to get to know him. He was already dying, but Drew took it upon himself to make sure that he was able to make it there for him. He was good to Jason's kids, too, when he thought he was Jason. He's a good dad, and we love that about him.
Valentin
Okay, okay. So, he's not the best of the best. He's used his daughter to get what he wants in life. He's used her to do things that aren't so good in life, but he's always been there to make her happy. He's raising her without her mother, even though she's part of her life, and he's done a few things to make it clear to everyone that he is going to try harder and be a good father. He might make poor choices, but he's clear he loves this little girl more than anything.
Michael
He's a brand-new father who didn't know his baby was even alive for a year, and he's killing the game. He's doing what needs to be done. He's making the right calls. He's fighting for his baby, and he will not stop fighting for this baby. This baby means everything to him, and that is one of those things we love so much about this family. They always love their own.
Finn
He might also be new to this game finding out about his little girl only a few months ago, but he's played the game right. He's made it clear this little girl is very important to him even though her mother bailed on him. He might be making some mistakes along the way, but he is doing all that he can to try and make up for the time that he missed through no choice of his own. He's working to figure this out, to figure out what do you do with a little girl who doesn't know you but you love so much, and he's doing a good job. We have a feeling that they will be very close for the rest of their lives. He's doing a lovely job considering what has been his life so far.
Tell us what's wrong with this post? How could we improve it? :)
Let us improve this post!