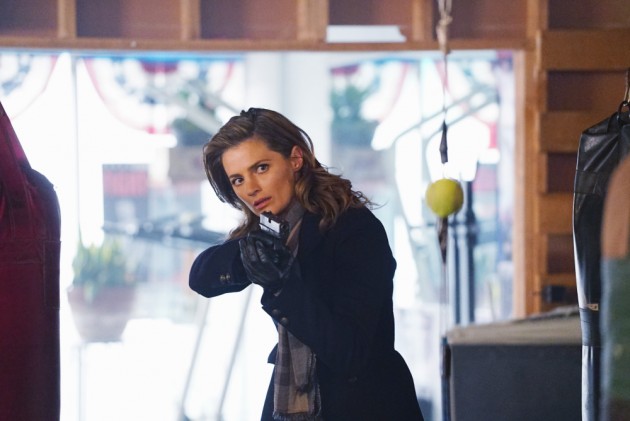 Richard Castle gets to enjoy a bit of a threesome, investigation speaking, of course, in this week's episode of Castle. Well, "enjoyed" might be too strong a word; "endured" may be much more accurate in this case.
It's been a long time since we've seen Detective Kate Beckett feel insecure about anything and to see her feel that worried about not going anywhere in terms of her career is a little shocking to say the least, but with a colleague from the police academy making Captain and the arrival of Chief Inspector Zhang (guest star Linda Park, who has also guest starred on The Mentalist as Dr. Montague), Kate was beginning to feel that she is falling behind in moving up the leadership ladder and started to second-guess her decision to leave the Attorney General's office in Washington, D.C..
Castle then tried to remind his insecure wife that she was unhappy working for the A.G. and even brought up one of his own personal experiences. He called it the Patterson Syndrome, in which renowned author James Patterson will write about six best seller novels every year compared to Castle's one. Eventually, Castle learned to stop comparing himself to Patterson because as maddening as that is, comparing how many novels Patterson publishes to how many he, himself, gets published does not make Castle write any faster.
Granted, Inspector Zhang's list of accomplishments was lengthy and quite impressive on paper and her personal life was picture perfect and balanced given that she has an amazing career, is married to a handsome action movie star, and has two beautiful children. It was rather difficult for Kate not to feel inferior, and insecure, to all of that success. I have sometimes felt that way as well when my parents compare me to other people's children, how they went to the most prestigious schools, earning fancy degrees and found high paying careers, but that's a story best left untold.
Coming back to Beckett, she eventually realized later on in the episode that reality and perception are two very different things when Zhang told Beckett outside the boxing gym that her husband and her are now separated and that she wasn't the mother that she should be to her children, because she's always too busy for the things that truly matter, like helping a childhood friend in need. Guess she isn't the supercop, loving mother, and wife that everyone thought she was and that Castle was right when he said to Beckett that Inspector Zhang is a human, like the rest of us, flaws and all, not some infallible supercop who swoops in every time to save the day like a masked superhero with awesome powers and/or gadgets.
Zhang's involvement in the case was fun while it lasted, but I can't say that I'd want her sticking around for any longer than this episode aside from the fact that her takedown of Esposito and Ryan at the dead park victim Henry Graham's apartment in the beginning of the episode was so freakishly fast that the boys could barely look at her afterwards when they were all back at the precinct. They were so preoccupied with the fact that they got bested by Zhang that they barely noticed Beckett's competitive side starting to surface, and the scene where Zhang went to see Hicks at the boxing gym and took down Hick's bodyguard like that was awesome as well, though I was a bit miffed when the bodyguard told Zhang that if she was looking for the pilates studio, it was across the street from the boxing gym. I mean, just because she is a woman, doesn't mean that the only sport or exercise that she can do is pilates.
While having a girl's night out in a sense (though it kind of looked like an indirect competition between Beckett and Zhang) at the shooting range, Zhang told Kate that once you reach the peak of one mountain it's time to work on scaling the next one. How about enjoying the view at the top for a while? There are only so many hours in a day that you need to make a decision about how you want to spend these hours and with whom because hey, you only live once, right? I also enjoyed the scene where Ryan and Esposito talked to Castle about his "rookie mistake," when he tried to stop Beckett from hanging out with Inspector Zhang; it was a nice change when Ryan called Castle by his first name instead of his last name like he usually does.
Although I never got too hooked on this week's case, I admit that knowing Henry Graham ended up being killed because he was trying to save his girlfriend Suyin by paying off her debt to Mimi Tan was incredibly sad. He planted half a kilo of cocaine on Jeffrey Wadlow's car to frame him and eliminate the competition as it were so that Mimi Tan can use these developments to gain respectability for her various businesses and for him to come up with the necessary funds, $40,000 to be exact, to free Suyin from Mimi Tan's grasp. I had a gut feeling that the Jade Temple restaurant was going to be tied back into the case somehow when it was revealed towards the end of the episode that Mimi Tan was rumored to be linked to human trafficking by smuggling illegals from China, mostly women, to help her run her businesses, including the restaurant, via a network of triads.
I understood the reason why Mei Wu had to kill Henry Graham because Suyin was her childhood friend; they grew up together and came to the United States together. Mei had thought that she was going to lose Suyin's friendship for good when she learned that Henry was going to pay off Suyin's debt to Mimi Tan and take Suyin away from her. So Mei went to confront Henry at the park and killed him during the confrontation. The one thing I was confused by was when Zhang took Henry's keys and phone. I guess it was to investigate his unfortunate death, but she at least should've called the NYPD for assistance and not take matters into her own hands.
My only disappointment after watching the episode was that I hoped to get a peek at Kate Beckett's list of priorities for the future. I mean, wouldn't you want to know if there will be cute little Castle babies running around sometime soon? It would be interesting to see what Kate is planning for her future, both professionally and personally, and it would be super awesome to see her try and break Castle's high score on Fruit Ninja. I know I would.
Did you, Caskett fans, enjoy this week's episode? What do you think is on Kate's list of priorities?
[Photo via ABC]
Tell us what's wrong with this post? How could we improve it? :)
Let us improve this post!