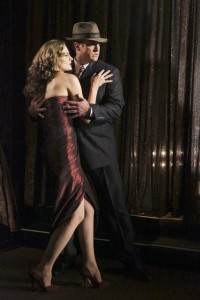 Well, if there was one thing that I have learned from 'The Blue Butterfly'was that keeping my expectations to a minimum was the absolute best choice I could have made. You all know how I felt about the noir aspect of it and how I was expecting it to be a complete disaster (and I got a lot of backlash for that too), but for what it's worth, I've learned my lesson.
It's better to be pleasantly surprised than sorely disappointed.
In all honesty, 'The Blue Butterfly'was not a bad episode. I wasn't crazy about the noir scenes, even though the costumes and the setting were great. Maybe it's just that I am not a big fan of the noir style, but the lines, the accents, those just didn't work for me. That said, I really liked the case and absolutely loved the twist in the end when we found out that Joe and Vera made it out alive and lived happily ever after. I also liked the present day scenes a lot more than the 1947 ones and thought it was a nice build up to solving the case.
But my problem with this episode remains the same. I still stand by my argument that it doesn't do anything for the overall story. They promoted this episode like crazy, saying that Castle and Beckett would be closer than ever; but if you stop and think about it, what we saw was not Castle and Beckett at all. Sure, they were played by Stana Katic and Nathan Fillion, but they were different characters altogether in a completely different story. So they lived a very nice love story and there was that kiss in the end, but what's the point of it all if it doesn't happen with Castle and Beckett, the characters we really care about?
You guys know I love the show and I am usually all for being patient and trust that TPTB know what they're doing, but it feels like the overall story has come to a stop and all we get are those stolen glances and subtext and every episode feels like we're watching the same thing over and over again, only with a different case. 'The Blue Butterfly'was a good standalone episode, but that was it. It was just okay and we have had a good share of 'just okay'episodes this season. Maybe I am in the minority here (in fact, I am pretty sure I am), but the only really, really good episodes so far this season were 'Rise', 'Cops & Robbers'and 'Kill Shot'. That's three episodes out of fourteen. Those were the episodes that really felt like we were finally going somewhere, but after that nothing happened and that has always been my biggest problem with this show.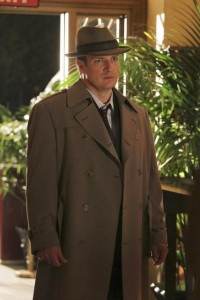 Some of you said that I was a disappointment because I said I wasn't looking forward to 'The Blue Butterfly'. But here is the thing, guys: To love something or someone doesn't mean you have to be completely blind about it and ignore its flaws. Nothing is ever perfect and Castle is most certainly not the exception to this rule. I love the show because of the characters not because of the procedural aspect and I never made a secret out of this. Lately, it has been more and more like a procedural with zero movement in the character arc front. And that's what bothers me the most. Because what's the point of having a super production of an episode if it doesn't do anything for the story in the long run? Was it well produced? Yes, it was and I am sure the cast had a blast filming it. But it was the kind of episode that stands completely on its own and if you skip it, you won't miss much. If a casual viewer tuned in for 'An Embarrassment'and then only came back for 'Pandora', they would be able to follow the storyline just fine because, as much as 'The Blue Butterfly'was nice, it didn't add anything to the show.
It has come to a point for me that something needs to happen in order to keep things interesting. Whether it will be movement forward or not, it doesn't really matter, as long as something happens to shake things up. Because if a hardcore fan like me is starting to lose interest, then what is it doing to the casual viewer, you know?
It's something to think about.