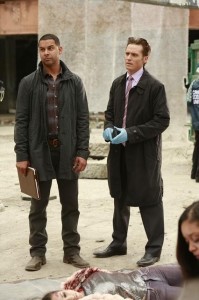 Last night's Castle finally gave us some backstory on Detective Javier Esposito when he takes a troubled teen under his wing and tries to get the kid back on the right track. "Under the influence" told the story of young Joey Malone, a 14-year-old orphan that got mixed up with the wrong people and ended up with a rap sheet that was entirely too long for a teenager his age.
When a DJ is murdered after working at a famous popstar's album release party, the gang starts investigating the case. It had a lot of twists and turns and I actually kind of liked it this time around — and was completely surprised at who the murderer actually was — unlike most "cases-of-the-week" lately.
However, we didn't get to see a whole lot of Castle and Beckett and the lack of scenes featuring our favorite crime-fighting duo stood out like a sore thumb to me. I like Esposito and all and it was really nice to know a little bit more about who he was before he became a detective, but it was like watching the Esposito show with a few guest appearances from everyone else. And that's not what I tune in for.
I am not saying it was a bad episode. It wasn't. A little cliché, yes, but it was a nice story. I really liked how Joey slowly warmed up to him and I loved how it ended, but it still just fell kind of flat for me. And that really sucks because there have been a lot of episodes exactly like this one this season. They're okay and the plot is nice, but at the end of the day they don't blow my mind like episodes in the earlier seasons used to. This was episode 11, right? Out of eleven episodes there was only one jaw-dropping-ohmygod-that-was-so-amazing episode and that was "Probable Cause", seven episodes ago.
I know things tend to slow down midseason, but I really hope they pull it together and deliver better episodes because I can already see where this is headed if they don't change direction soon. So, please, Mr. Marlowe & Co, do not pull a season 4 on us again. As a fan of this show, I beg you. Castle is a great show, but it has the potential to be amazing and you have already shown us that potential with episodes like "Knockdown", "Knockout", "Cops & Robbers", "Always", "Probable Cause" and so many more. Tap into that fountain of amazingness again. Please.