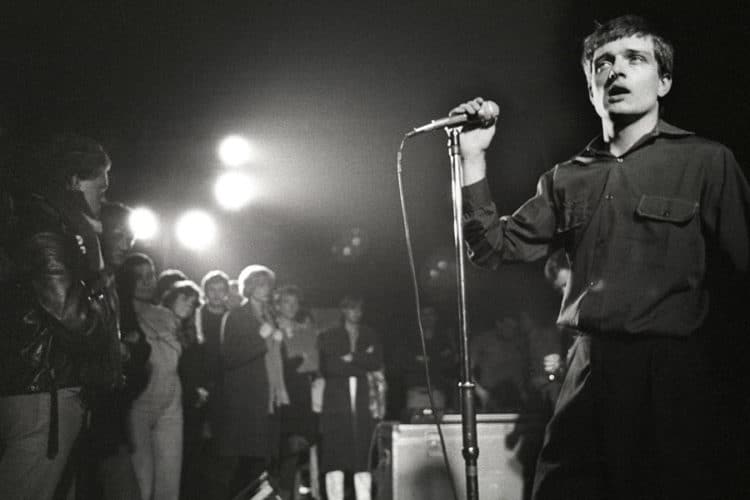 After attending a Sex Pistols concert in July 1976, Bernard Sumner and Peter Hook felt they were ready to form a band despite not being accomplished as skilled instrument players. They, therefore, posted in a local records store a "singer wanted" post that resulted in Ian Curtis being picked as the lyricist. The group called itself "Joy Division," and after only four years of thrilling performances, Ian Curtis committed suicide by hanging himself in his kitchen. The band later rebranded itself as "New Order." Still, with the recent anniversary of Ian's death that occurred on May 18, 1980, we are reminded of his sorrowful lyrics that he said were open to interpretation. Even his bandmates wish they had paid more attention to the cry for help, but that is water under the bridge. We can still pay tribute to the lyricist by a biopic about the band, and here are the actors we feel would make a great cast.
Peter Wentz as Ian Curtis
Ian Curtis may be gone, but the truth is that, as much as Stephen Morris said, even with him in the band, it was unlikely they would have endured, it is Ian's lyrics that made the music worth listening to because it resonated with the fans. Therefore we think that Ian's role would best be played by Peter Wentz, an American singer and songwriter. Ian was afraid that the American audience would not like him once they got to know that he had epilepsy. His condition bothered him so much that he hid it from his bandmates until he suffered a major attack in the tour van. Ian also suffered from depression said to be due to marital strains, and the drugs he was taking were not helping. All the same, he dealt with his struggles by noting them down in a notebook that ended up serving as the source of inspiration for the band's music.
Peter also has been dealing with bipolar disorder and has been taking drugs to cope with it since he was 18. In 2005, he wanted to commit suicide but was not successful because, according to NME, his mother took him to hospital. He turned his disappointment into a song "7 Minutes in Heaven," saying he should have taken a stronger dose. Besides, he also has gone through a divorce, and just like Ian, Peter was not ready to call it quits. Such similarities in their lives would enable Peter to perfectly capture Ian's personal and professional life, considering that Peter has a bit of acting experience.
Josh Groban as Stephen Morris
Stephen Morris grew up watching his uncle play the drums, but when he told his father he wanted to be a drummer, Stephen's father did not hide his disgust at the profession. According to an interview with The Herald, his father said that he had never met a sane drummer and all they do is take morphine. However, Stephen decided to prove his father wrong by becoming the best drummer ever. Although his life as a teenager was heading in the wrong direction, given how he was a truant and was taking drugs, music kept him grounded.
Such passion for the art is what Stephen and John have in common. In 2016, the actor and musician said he would never stop playing drums on his desk with his fingers. This calling to be a drummer saw Josh study acting but leave the career to concentrate on being a musician. Although Josh does not do drugs, just like Stephen in his youth, he struggled with depression at the start of his music career. This connection would ensure that he nails the performance of such self-doubt moments on the screen.
Colin Hanks as Peter Hook
Peter's career as a bassist dates back to the mid-70s when he borrowed $35 from his mother to buy a bass guitar. Bernard Sumner had asked him to get one, yet Peter did not what the instrument was. He did not even know that bass guitars have four strings and rejected the one the seller recommended to him based on this ignorance. With practice, he got the hang of the instrument and became the bassist of "Joy Division." Colin Hanks shares the same interest in bass; he once confessed that he would be a professional bassist in an ideal world. He cited Flea of the Red Hot Chilli Peppers and Les Claypool as his mentors, having discovered them in his teenage tears. They inspired him to play bass, and he became so good that he joined two bands, "Pontius Pilot" and "The Underlords." He revealed he played bass guitar in both high school and college until he fractured his thumb. For someone who dreams of being a professional bass player and whose acting career is impressive, playing Peter would give Colin the chance to make his dream come true.
Jared Leto as Bernard Sumner
When he talked to the Irish Times, Sumner disclosed that the only reason he ventured in music was because he hated to work. He never thought he was cut out for a 9-5 job, and when he tried getting one at 17, he was convinced that was not the life he wanted. Sumner needed a creative outlet; thus, after being a runner and working in animation, the band became the ultimate solution to his woes. It turned out to be a very lucrative career because, with the current lockdown, the musician's only worry is that he cannot get to his boat in Wales.
Jared Leto would play the role of Bernard Sumner because, just like Bernard, Jared is a multi-instrumentalist, singer, and songwriter of a rock band, "30 Seconds to Mars." On his Wikipedia page, Jared is described as being very selective about the film roles and will do anything to portray the character even if it adversely affects his health. Therefore changing his hair color to look like Sumner, Jared would not pose a problem for the actor.