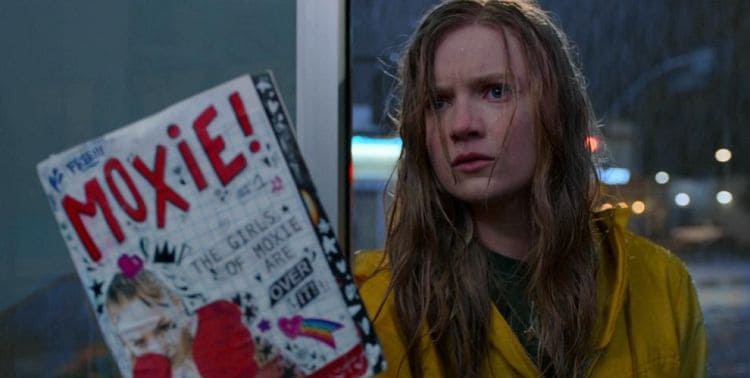 Hadley Robinson is relatively new to the professional acting scene, but she's already making some serious waves. She got her first big break in 2020 when she was cast in the TV series Utopia. Now she's back on our screens with a movie role that has everyone talking. Hadley is the star of the new comedy/drama film Moxie which focuses on a teenage girl who starts publishing an anonymous magazine which she then distributes around her school. As you can probably guess, the publication starts getting other students all fired up. The role has given Hadley a chance to share her talents with a wide audience and it's helping to establish a strong foundation for the future of her career. Keep reading for 10 things you didn't know about Hadley Robinson.
1. She Lived In London
Hadley was born in the United States and lived in a small town in Vermont for the first several years of her life. When she was around 9-years-old, she and her family relocated to London which is where she fell in love with acting. She moved back to the United States and eventually ended up attending three high schools.
2. She Isn't Really A Teenager
Hadley does a very convincing job of playing a teenager in Moxie, but she's actually close to 30 than she is to being a teenager. According to an article in Teen Vogue, Hadley is currently 26-years-old. Her youthful appearance will likely allow her to play much younger characters for years to come.
3. She Trained At Juilliard
Although she hasn't been acting professionally for very long, Hadley is certainly no newbie to acting. After falling in love with the craft at an early age, she worked hard to do everything she could to set herself apart. She attended Juilliard where she was part of several theater productions.
4. She Didn't Know Much About Riot grrrl Before Being Cast In Moxie
Hadley would've been just a baby when the Riot grrrl movement began in the early 90s, so it's easy to see why she wasn't super familiar with it. For those who aren't familiar, Riot grrrl was a term used for an underground feminist movement that began in Washington and eventually spread to other countries. After being cast in Moxie, Hadley did everything she could to learn all about the Riot grrrl movement.
5. She Was Shy During High School
When people see actors and other celebrities, they naturally tend to assume that people in the spotlight are very outgoing and extraverted. That isn't always the case, though. Like many other actors, Hadley was somewhat shy when she was younger. During an interview with Schon Magazine she said, " I was very shy in high school; I kept my head down, I was terrified of speaking my mind. I was taught that being wrong and failing meant that you yourself were a failure. I know now that this is the antithesis to growth. Later down the line I started a club or two and had no idea what I was doing, but I'm glad I decided to take the risk. I found myself in failure, and there's freedom there, too. My worst fear is being afraid. Fear inhibits our humanity! "
6. Moxie Was Her First Major Movie Role
At this point in her career, Hadley has earned a little less than 10 acting credits. Although she's no stranger to being on sets at this point, Moxie was her first time having the lead role in a movie. Although having the main role is great, it also means spending lots of long hours on set.
7. She Loves To Read
As someone who loves the art of story telling, it's only right that she also loves to read. When Hadley has some down time, reading is one of her favorite ways to spend it. She enjoys all sorts of things from poetry collections to novels. Sometimes she even shares what she's reading with her followers on social media.
8. She Enjoys Working On Projects Led By Women
As a young woman in the entertainment industry, Hadley understands the importance of representation and empowering other women. She told RogerEbert.com, "I've always had such a great experience with women spearheading projects creatively. With women, I always feel like it's more relatable, and then I feel a bit more open. I always feel very safe on set. And it feels good to see somebody like you at the forefront."
9. She Spends A Lot Of Time Outdoors
She may make a living being in front of cameras and bright lights, but in her free time she enjoys the serenity of the outdoors. Hadley enjoys being outside and taking in the beauty of nature. Some of her favorite outdoor activities include hiking, exploring nearby trails, camping, kayaking, and swimming.
10. She Likes To Wear Dark Colors
There are lots of people who like to express their sense of style through bright colors, but Hadley isn't one of them. While talking to Schon Magazine Hadley said, "I like black. I have this terrible theory that people won't take me seriously unless I wear dark, masculine clothes."
Tell us what's wrong with this post? How could we improve it? :)
Let us improve this post!