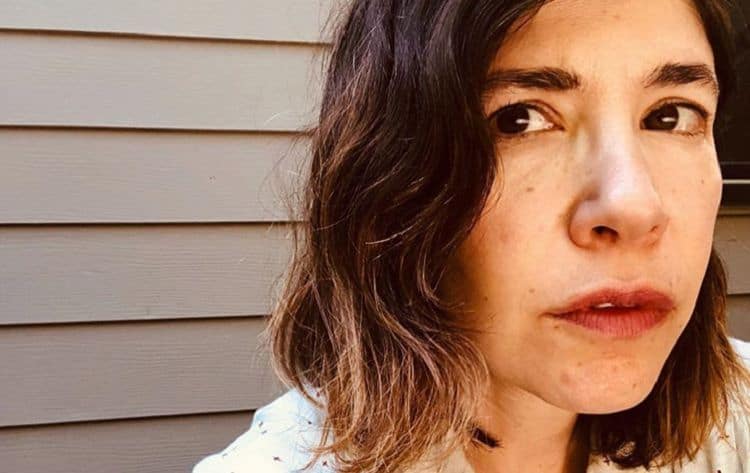 Regardless of whether you know her as one-third of rock band Sleater-Kinney or as the star and creator of Portlandia, you're undoubtedly familiar with the work of Carrie Brownstein in some capacity. Over the past 30 years, she's carved out the kind of career we'd all love a piece of, establishing herself as both one of the most underrated guitarists of all time and one of the keenest comedy writers of her generation. Find out more with the ten little facts.
1. She's happy to be an outsider
Brownstein has always felt an outsider, but while most of us would prefer to be part of the party than the one on the outside looking in, she's more than happy with her position. "I always felt like such an outsider, always existing on the periphery, and I am really grateful for that," she's explained. "Starting from a place of normalcy or mainstream, you don't get the same gumption or drive that you do from the fringes."
2. She had guitar lessons with Jeremy Enigk
Brownstein started playing the guitar at 15 and found an early mentor in the singer/ songwriter, Jeremy Enigk. At the time, Enigk lived in the same area as Brownstein, so she'd simply wander over after school for some lessons. "He showed me a couple of open chords and I just took it from there," she explained to The Stranger. "I'd gone through so many phases as a kid with my interests that my parents put their foot down with the guitar. So [the instrument] ended up being the [first] thing that I had to save up my own money for — and maybe that was the whole reason that I actually stuck with it."
3. She pioneered the riot grrrl movement
While studying at The Evergreen State College, Brownstein struck up a friendship with Corin Tucker, Kathleen Hanna, Tobi Vail, and Becca Albee. The group of friends would eventually go on to pioneer the riot grrrl movement of the early nineties, with Bronstein and Albee's first band, Excuse 17, and Tucker's Heavens to Betsy being at the forefront of the scene. While still active with their individual projects, Brownstein and Tucker began collaborating under the name Sleater-Kinney — when both Excuse 17 and Heaven's To Betsy split, Sleater-Kinney became their main focus.
4. She shot to fame with Sleater-Kinney
In 1994, Sleater-Kinney recorded their eponymous debut album while the duo was celebrating Tucker's graduation from Evergreen's in Australia. Following its release, the band spent the next decade touring and recording extensively, releasing a total of 6 albums before they announced their hiatus in 2006. In 2014, the band delighted fans when Brownstein announced their return with a new album titled No Cities to Love. Despite their long absence, Sleater-Kinney's mark on the music industry can't be underestimated, as Stereogum Chief Editor Tom Breihan made clear in 2015 when he celebrated their return by calling them the "greatest rock band of the past two decades."
5. Wild Flag was never a sure thing
During Seater-Kinney's long hiatus, Brownstein started working on numerous side projects, one of the most prominent of which turned into Wild Flag. The band, which consisted of Janet Weiss, Mary Timony, and Rebecca Cole, took a year to finally form, with it taking multiple jamming sessions before the individual members finally realized they might be able to achieve greater things as a collective than as individuals. "Chemistry can't be manufactured or forced, so Wild Flag was not a sure thing," Brownstein told NPR. "It was a 'maybe, a 'possibility.' But after a handful of practice sessions, spread out over a period of months, I think we all realized that we could be greater than the sum of our parts."
6. She's one of the most underrated guitarists of all time
As any fan will tell you, Brownstein is an amazing guitarist. For whatever reason, she's also a criminally underrated one, as attested when she won the honor of becoming the only woman to feature on Rolling Stone's 2006 readers' list of the 25 "Most Underrated Guitarists of All-Time."
7. She was outed by Spin
When Brownstein was 21, she was publicly outed as bisexual when Spin published an article revealing the details of her relationship with bandmate Corin Tucker. Until that point, Brownstein had kept her sexuality firmly under wraps. "My dad called me and was like, 'Um, do you want to let me know what's going on?' " she later shared with Nooga . "The ground was pulled out from underneath me… my dad did not know that Corin and I had ever dated, or that I even dated girls."
8. She's released a memoir
In 2015, Brownstein offered her fans an insight into her life with the memoir Hunger Makes Me A Modern Girl. It wasn't the first time she'd committed pen to paper: while still performing with Sleater-Kinney, Brownstein contributed regularly to The Believer magazine, as well as writing music-related video game reviews for Slate. Between 2006 and 2010, she wrote a blog for NPR Music called "Monitor Mix", and in 2009, she began work on The Sound of Where You Are, a still-unreleased exposé of the changing nature of the music industry.
9. Music is her salvation
Although she's as well known today as a comedian, actress, and director as she is a musician, music is where Brownstein started, and it's still where her heart lies. "Music has always been my constant, my salvation," she shared on her blog. "It's cliché to write that, but it's true. From dancing around to Michael Jackson and Madonna as a kid to having my mind blown by the first sounds of punk and indie rock to getting to play my own songs and have people listen, music is what got me through."
10. She sees acting as a "mere hobby"
She may see acting as a "mere hobby", but it's not stopped her from becoming something of a permanent fixture on our screens over the past decade. As well as starring in (not to mention writing for) the hugely successful Portlandia, she's appeared in the 2010 independent film, Some Days Are Better Than Others, Todd Haynes' Caro, and the Amazon Studios original series Transparent. She's also made several guest appearances on the likes of Saturday Night Live, Curb Your Enthusiasm, and Man Seeking Woman.