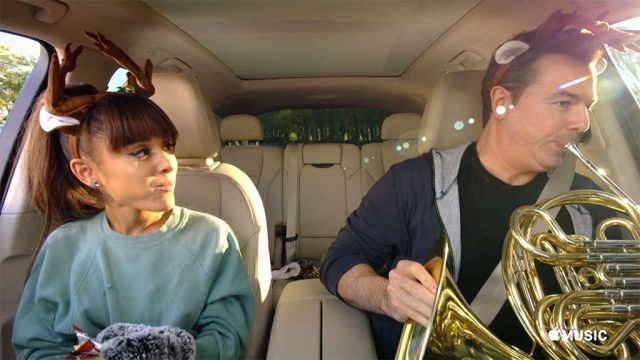 It all began years ago with George Michael. But when James Corden got Adele to partake in his Carpool Karaoke segment on The Late Late Show, history was made and Carpool Karaoke by far become Corden's biggest segment on his late night show. Because of the popularity of the videos and segment it comes as no surprise that the segment is getting its own spinoff show.
Apple Music and the series' first sneak peek was shown during the 2017 Grammys, naturally, which were hosted by Late Late Show's James Corden. In the trailer, below, you can get a glimpse at what it's like when other celebrities are in the driver's seat–but don't fret because Corden, who is an executive producer on the series, will also appear. Corden's episode at the wheel is with Will Smith.
"We couldn't be more excited to be partnering with Apple Music on this exciting new series of Carpool Karaoke," Ben Winston, executive producer of The Late Late Show With James Corden and Carpool Karaoke, said in a statement when the show was announced. "The joy of Carpool is both the intimacy it creates, while seeing the love our passengers have for music. Where better to showcase that than with Apple Music."
The series also goes outside of the car too. Celebrities will be surprising fans at places of their past. Some big names slated for the first season are Billy Eichner, Alicia Keys, Metallica, John Legend, Ariana Grande, Seth MacFarlane, Chelsea Handler, Blake Shetlon, Michael Strahan, John Cena, Jeff Gordon, Shaquille O'Neal and others.
Check out the trailer below: