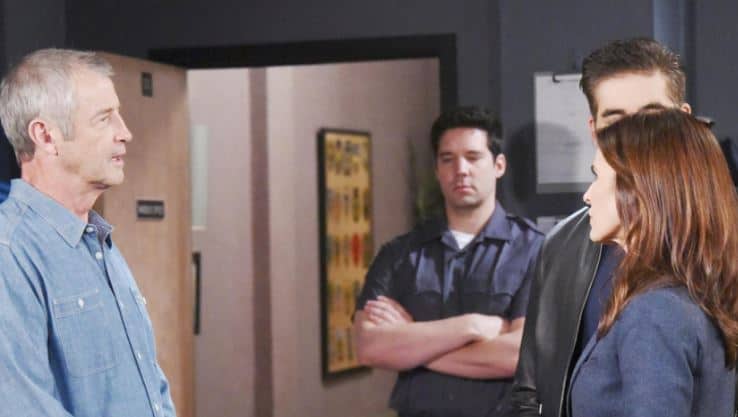 Days of Our Lives fans are so excited to see what happens this week, but it turns out there is a lot more going on that most of us can handle. We think there is a good chance you can see some answers, but let's talk about what happened last week. For one, we saw that Claire decided to make a move on Tripp. She's had a thing for him for some time now, and she's just not about to let that go. She wants a piece of that, and she's unwilling to let that go for any other reason. She has a chance to make things right, to get what she want, and to have some fun, and she's taking it. She's kissed him, and we don't know how he is currently feeling about that. Does he like it? Does he wish she hadn't? Is he still thinking about Ciara?
And then there is the fire and Ciara. She's trusted Ben, but he's already beginning to hallucinate. He's seen Clyde, but he wasn't really there. A fire has begun, and their lives are in danger. He's not in his right mind, so saving them might not be a good situation. He might not be able to handle it, and we don't know if that's good news or bad. He has to get his life in order, but he can't quite get there. He's working hard on making sure things go his way, but he's also not sure what his way is at the moment. He's got a lot on his mind, and he's struggling to figure out what is real and what is not. Without his medication, he can't make that determination. Will they be all right? Will he kill them rather than save them, and is he a danger to her?
What's Happening on Days of Our Lives
Almost every day is #InternationalKissingDay on #DAYS https://t.co/jzV3Ijxy6T

— Days of our Lives (@nbcdays) July 6, 2018
We love it when our favorite show gets together with its cast to make fun of itself, and that's precisely what the people behind the screen at Days did this weekend when they joked about international kissing day — which we missed, and we have no idea how, by the way — by posting this fun GIF. Or as we like to call it, a gift. Did you make like the many residents of Salem and kiss as many of your real life costars as possible, or did you keep it simple?
What's Next on Days of Our Lives
Ciara will not be able to help herself or Ben in the situation she is currently in. She's passed out and unable to save them. Ben is not able to do much himself as he is busy stuck in his own mind and unable to act. And there is no hope for them at this point. Is this the moment when Hope and Rafe find and rescue them both, or will there be another death? It also turns out that there will be some serious drama for Brady. He has to clear his name now that Theresa has insinuated he is the one who killed Deimos. We all know he did not — and we know who did. It was Nicole, who has left town with her daughter and gone into hiding so she's not in trouble anymore. But he has to save himself from jail and from losing his son.
Eve wants him to tell the court that it was Nicole and let her deal with this. But there is the small problem that we have a feeling Nicole might just be his one actual true love. She might be the one he'd rather be with more than anyone else, and we just don't think he will do that to her. But if he does, she might come back, and this might be her return. Fans would love that, so it's an option someone might be happy about that. Obviously not Eve or Theresa because we think a Nicole returns means he's out completely for them.
Stay tuned for more Days of Our Lives and be sure to check out TVOvermind daily for the latest Days of Our Lives spoilers, news, and updates.