"Don't be tasing my agent!"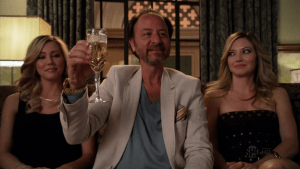 After three great episodes of Californication to begin season four, the fourth episode seemed a bit slow in comparison and doesn't quite stack up to the first three. That's not to say that it didn't have its entertaining moments or wasn't enjoyable, because it did and it was.
When last week's episode ended, Hank finally sat down to write the screenplay. We learn early that he finished it and Charlie loves it, calling it "broner inducing." He's found a billionaire financier, and their mission is to meet with him. This financier is Sid (played by Fisher Stevens) or "Creepy Warbucks" as Hank appropriately calls him. He's a strange man who has two sisters as wives, a severe case of erectile dysfunction and seems to really hate Charlie. Each time he screamed at Charlie was great. I loved when Hank asked the sisters if they were really sisters or if it was "kinda like a White Stripes deal." Sid says that screenplays bore him, so he invites everyone involved to his mansion to act it out. The end result of this is everyone getting stoned and Charlie sleeping with one of Sid's wives, at least until Sid's monkey interrupts. This leads to Charlie picking the chimp up and throwing him across the room to his untimely death. Hank and Stu thought this was quite funny, despite how angry they were that Charlie could potentially be ruining the deal. They go up to Sid's room to tell him the bad news about the monkey only to find him hanging from a door, dead from autoerotic asphyxiation. The title "Monkey Business" works on two levels here. Very funny. They call the police, which leads to another funny scene where Charlie gets tased and the officer gets knocked out by Hank's fist, and a visit from Abby, Hank's lawyer, who was proud of him for calling her to help handle the situation.
The B storyline of Karen and Marcy was much less interesting, but showed us three important things. The first is that Marcy is indeed pregnant, though she says it can't possibly be Charlie's baby. Still, I think it just might be. (Maybe that's just because I hope the two of them end up back together, though.) The second thing we are shown is Becca and her band practicing. Though Becca just joined the group, they sound tight. The third thing could cause a lot of trouble for Hank in the near future. Karen meets Ben, who came over to see his daughter practice; she's the singer in the band. They almost instantly seem to have a connection, and Hank walks in later that night to see them chatting as Ben is playing with her hair.
It will be interesting to see how Hank reacts, as his road to getting Karen back now may have an extra obstacle along the way. Additionally, with Sid dead, the film will need another financier. Everything is up in the air again, and that always leads to something interesting for Hank. Grade: B-
Tell us what's wrong with this post? How could we improve it? :)
Let us improve this post!