"Come on. Love me. Hank needs some sugar."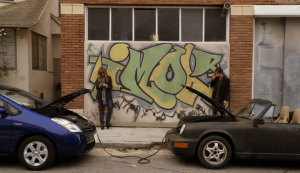 Californication is a show that seems to work better in chaos. Sometimes, the worse things get for Hank Moody, the better things get for us viewers. My review of last week's excellent season premiere began with "Things are looking pretty good for Hank Moody." The roller coaster was slowly crawling to the top of the big fall. My review ended with "Things don't look so good for Hank Moody anymore.'The roller coaster reached the top, and the view below was an unexpected one; Hank was arrested for statutory rape. 'Suicide Solution,'the second episode of the season, shows us Hank dealing with his mounting issues as the roller coaster plunges.
The core of this episode showed Hank dealing with his damaged relationships with both Karen and Becca, encapsulated perfectly when Hank tells Karen 'I know how hard this must be for you'and she responds by asking him 'do you?'very coldly. You could tell he took that to heart and really weighed on him; he knows he has a long way to go before reaching forgiveness at the end of the track. He then takes Becca out shopping because she needs guitar strings, and after watching her play a guitar in the store (where Zakk Wylde played a store employee who commented on Becca's talent) he decides to buy it for her, despite her protesting and saying he should save his money for a lawyer. This added to the weight he's feeling; he knows he needs Karen and Becca. It seems he's trying to buy his daughter's love back, but he was unable to complete the transaction because his credit card was declined.
Charlie is still working to help Hank get into the idea of re-writing the F&P script. Hank still questions it and wonders what they're doing, saying that it's 'all for a stupid movie that'll probably turn out to be worse than the last one.'Charlie puts Hank in his place by reminding him that his other option would be to 'get a real job.'This is Hank's life, and that script is probably the best thing going for him at the moment, made even sweeter because it will help his best friend get his old job back.
Something I mentioned multiple times last week was great casting, and that theme came back this week as we're introduced to Rob Lowe as Eddie Nero, the vulgar, self-centered actor who wants to play Hank in the film. (Hank wants to hold out for Harvey Keitel.) Lowe is a great addition to an already superb cast, and I look forward to seeing more of him.
Hank goes to see Sasha, and even though he astutely pointed out that it won't look good for him if word gets out that he's sleeping with the girl who's playing the underage girl he had sex with, he can't say no to the temptation. However, they're interrupted by Nero and Sasha leaves Hank to wait for her in her room. Left alone to think about what a mess he's in, Hank takes some pills and heads home, where he begins drinking and sits down to write a letter to Becca. In the touching letter, he admits to being a child in a man's body, which would be hard to disagree with. He then collapses on the floor in a haze of pills and booze.
That's now two great episodes to kick off the season, and next week we'll find out if this is the beginning of a long plunge for Hank or if the roller coaster is about to head back uphill. Grade: A
Other thoughts:
– Kudos to David Duchovny, who did a fine job directing the episode. This is the third Californication episode he's directed.
– I thought last week that Hank would probably end up sleeping with Abby (his lawyer) and now after their conversation where she admits to loving sex, I think it's time to start a countdown until they get together.
– Nice J. Geils Band shirt, Becca.
– The scene where Charlie helped put Hank's pants on was great. Duchovny and Evan Handler are just great together.