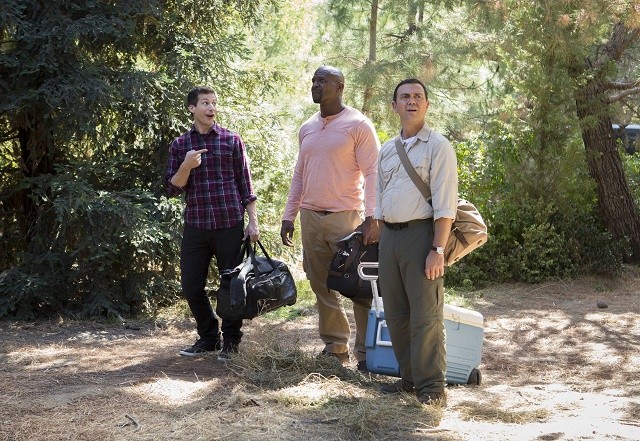 In one of the funniest episodes of the season so far, Brooklyn Nine-Nine did what it does best: explored the different friendships among the members of the precinct. With Rosa struggling to determine the best way to go about breaking up with Marcus, Holt's nephew, these two were able to look into emotions that they very rarely visit. At the same time, Jake and Charles tried to help Terry by bringing some fun and relaxation into his highly stressful life, a plan that they should have known would backfire. We also got to return to one of the most entertaining female friendships on the show, as Gina helped Amy market a product she had invented. Every storyline in this episode revolved around the team helping one another other out and being there for each other, something that makes Brooklyn Nine-Nine transform from a show about coworkers into a show about friendships.
If there's one thing that Rosa and Holt share in common, it's their inability to access their feelings (other than anger, which Rosa has no problem with). Both characters are incredibly logical and rational, unable to understand other's emotions, much less their own. When it came time for Rosa to break up with Marcus, realizing that he wants marriage to be their next step while she's not ready for that, she went to Holt for advice. To begin, both took their normal approach to the problem, thinking that Rosa could simply text him in the middle of the night telling him they were done. Anyone who's ever been in a relationship knows that that's the absolute worst way to break up with someone, and thankfully, Holt's husband realized this and stopped it from happening.
After realizing that Rosa couldn't break up with Marcus via text, the two determined that she would have to go and do it in person. As Rosa expected, Marcus was very emotional about the break-up, something she tries to stay as far away from as possible; however, it soon became clear that even Rosa, with her hard exterior, was greatly affected by her and Marcus's split. For the first time, we saw her truly open up about her emotions, and open up about them to Holt nonetheless. The two shared a memorable scene in which Rosa expressed her fears of never finding someone to be with, a fear that many of us have. While Rosa is always a joy to watch on screen, it was nice to see this moment that made her so relatable. Stephanie Beatriz did a fantastic job with this scene, adding yet another layer to the complex character of Rosa.
While Holt was helping Rosa come to terms with her emotions, Jake and Boyle were finding less success trying to help Terry relax. An ongoing theme throughout the season has been the stress that Terry has found himself under, juggling both a job and parenthood. In an attempt to be good friends, Boyle and Jake suggested a camping trip during which he could forget about all the stress and just relax. Of course, things are never truly that simple, and the three quickly found themselves in a sinkhole, causing even more stress for Terry.
In the end, though, the three were able to bond during their time in the sinkhole, and while the trip may not have been ideal, Terry acknowledged that he was grateful that the two friends had made an effort to relieve some of his stress. It was nice to see these three reconnect outside of the workplace, solidifying the friendship they have with each other. And though Jake and Boyle sometimes run into problems, they always have good intentions, this time simply wanting to help a friend out.
This theme continued on into the Amy/Gina storyline, when Amy showed Gina an invention she made that she thought would be useful to the police force: flashlights that rest on your shoulders, thereby freeing up both hands. Gina quickly jumped on board, helping Amy with her pitch. The two ended up making a pretty fantastic team, with Gina's inherent ability to capture an audience's attention combined with Amy's research and knowledge of the product. While they may not have succeeded in pitching the idea, Gina was able to help Amy realize that her ideas could make a difference in the lives of some people. It's not often that we see Gina encouraging others instead of belittling them, making this an even nicer moment for her and Amy's friendship.
[Photo via FOX]