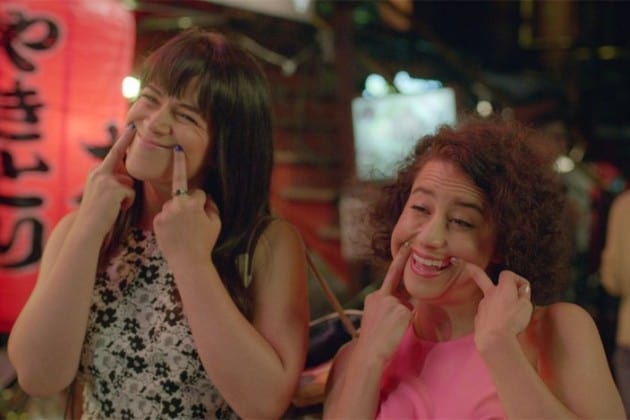 An episode of Broad City where the neighborhood becomes its own character, "St. Mark's" is the coda to a triumphant season of television's best buddy comedy, one that emphasizes a low concept, lots of hanging out and walking around New York, and plenty of walk-and-talk scenes with Ilana and Abby just riffing on life – hardly what most people are looking for in a season finale of a television show, but a perfect ending to a fantastic, all-too-brief season of comedy.
Oddly enough, this was probably one of the most difficult episodes to film, the overwhelming majority of it shot in open spaces and active streets, observing Ilana and Abby's conversations and personal reflections from a distance. This is just Abbi and Ilana hanging out, which is always when the show's at its best – and often, its most vulgar. And as a celebration of Ilana's birthday (matching the Season 1 finale, which celebrated Abbi's in epic fashion), "St. Mark's" doubles down on the poignant/nonsensical self-realizations, thoughts quickly introduced and discarded, never pausing too long to reflect on a singular experience, be it a referenced act from previously this season, or one of the many hilarious background details we're given (Abbi writing a journal entry about masturbating above the covers for the first time, Ilana using lemon as antiperspirant, being chief among them).
That's not to say "St. Mark's" lacks any kind of purpose or momentum: the episode's central drama revolves around Ilana's bag, stolen by a snarky porch-sitter who turns out to be the disgruntled adult son of the beautiful, timeless Patricia Clarkson, who rips into her son (played by The Wire's Leo Fitzpatrick) with an impressive amount of gusto, a perfect example of how a guest star can steal an episode with a single scene. She may not be the emotional centerpiece of the episode, but she's another distinctly drawn, minor female character Broad City can add to its unparalleled collection, a wonderful topper to an episode that is just as funny and engaging when it's not in the middle of an extended chase scene, complete with Abbi's laughably bad attempts at parkour.
Like last season's finale, "St. Mark's" isn't really about its guest stars or ancillary characters: it's a time of reflection for the main characters, which they do over a hilarious comforter in front of a pizza joint. As they did in Abbi's hospital bed last season, we get some hilarious stories about what the girls have done in the last year, as well as a list of their weird, perfectly unique goals for the upcoming year of their life (Ilana references her anti-depressant dosage, a thoroughly bleak, revealing joke hid in among the humorous moments) – if there's one thing we can count on Broad City for, it's never losing sight of the central friendship, even when a birthday dinner goes wrong and some dope wigs are lost in the pursuit of justice.
Where Broad City finishes its season is beautiful: the composition of the shot, framing the two women sitting on the floor, with the comforter (featuring a naked, sleeping black man) draped over them, eating pizza and talking about their goals in life for the next year (and celebrating Abbi's monumental pegging accomplishment, of course). It brings the season to close in the only way it really ever should: with Abbi and Ilana talking about the ridiculous things they want to do and see in the world, ending with the distinct phrase "I hate pain…. I love pleasure." I couldn't imagine a better way for Broad City to conclude another wonderful, hilarious season of television.
[Photo via Comedy Central]