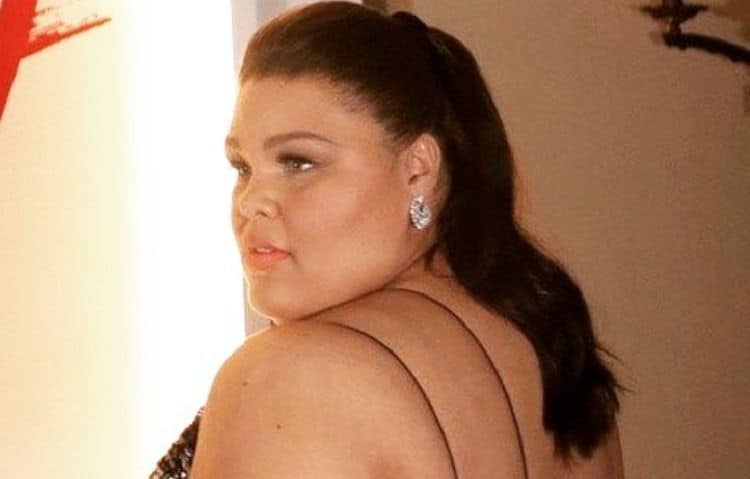 Britney Young has always dreamed of being an actress, and in 2013 her time finally came. She made her on screen debut in an episode of Stand Up Girls and she's been grabbing bigger opportunities ever since. Most viewers will recognize Britney from her role Carmen Wade in the Netflix series GLOW. Thanks to the show, Britney got the chance to share her talent and passion for acting with people all over the world. Although she hasn't been in any shows since GLOW, we certainly haven't seen the last of Britney. The possibilities for her future are endless and her fans are excited to take the journey with her. Continue reading to learn 10 things you didn't know about Britney Young.
1. She Was Born In Japan
From an early age it appears that Britney was destined to become a woman of the world. She was born in Tokyo but was raised in Alaska. Her mother is white and her father is black. Britney is extremely proud of the cultures and places that have helped shape her into who she is.
2. She's A USC Grad
After graduating from high school in Alaska, Britney decided that it was time to move on to warmer weather. Plus, she knew she wanted to work in the entertainment industry. She enrolled at the University of Southern California where she earned a bachelor's degree from the school of cinematic arts.
3. She Loves To Read
When Britney isn't working, reading is one of her favorite things to do. She told Forbes, "I'm a huge reader. I'm always recommending so many books for my friends…I'm never not reading. I think sometimes people can scoff at you for reading for fun. I want to take away that stigma."
4. She's A Producer
Britney loves to act, but being in front of the camera isn't the only thing she's interested in. She's always been intrigued by the behind the scenes aspect as well. In 2019, she made her debut as a producer in the short film Sign of the Times. I have a good feeling this won't be her last time in the producer role.
5. She Likes To Dance
Sometimes its nice to put on some music and just let loose, and this is something Britney does often. Britney enjoys dancing and she's no stranger to learning choreography. Sometimes she even shares videos of her dance routines with her followers on Instagram.
6. She's Sick Of Stereotypes In The Entertainment Industry
It's no secret that the entertainment industry gravitates towards people who have a certain look. People who don't fit into that mold have fewer opportunities and the ones that are available to them typically aren't flattering. As a plus size woman, this is something Britney has had to deal with throughout her career. During her interview with Forbes she said, "I'm still getting the stereotypical auditions for big mean girls, the bullies. That's why I appreciated that Carmen is a breath of fresh air. Her size has nothing to do with her character, her personality."
7. She Loves Adventures
Britney loves to enjoy life as much as she can and she's all about having as many experiences as possible and trying new things. In fact, if she wasn't acting she would be doing something that would allow her adventurous side to thrive. She told TV Insider that she's want to be a "Sherlock Holmes-Indiana Jones type of person".
8. She Was Bullied A Lot Growing Up
When Britney was growing up she didn't always have the easiest time with her peers. In an interview with Glamour she said, "My school days were filled with kids telling me I was a fat pig, that I was lazy and disgusting. I'd hear "moo" sounds behind me while I was running in gym…If I wasn't being bullied about my weight, I'd get heckled about being biracial. I was constantly told I was the "whitest black girl" or the "blackest white girl"…"
9. She's All About Positivity
With the way some people have treated Britney, it would've been easy for her to turn into a bitter person but she decided to take a different approach. Over the years she has worked hard to build her confidence and she loves using her platform to spread positivity and good vibes to others.
10. She Was A High School Cheerleader
If there's one thing about Britney, she's never let stereotypes stop her from doing what she wants.During her time as a student at Chugiak High School, Britney was a member of the cheerleading time. Her outgoing personality proved to be a great fit for the squad.