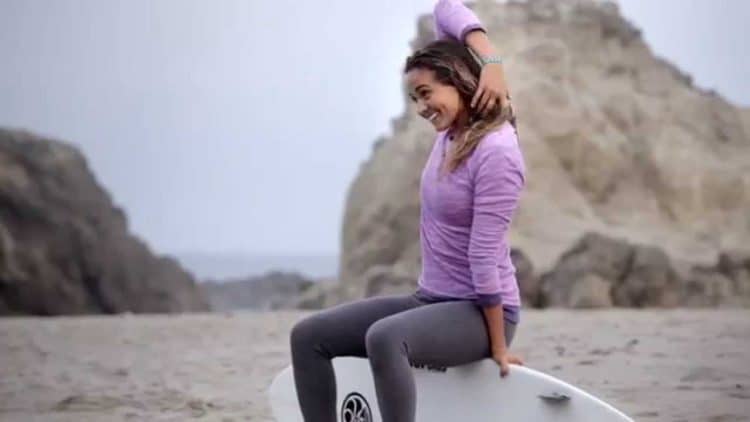 Brianna Cope is only in her early 20s, but she's already accomplished a lot of very cool things. Since entering the world of professional surfing when she was 18 years old, she has captured the attention of people all over the world. Now she's about to reach more people than she even could have imagined as a contestant on the new series The Ultimate Surfer. Brianna will be getting the chance to put her skills to the test, but she isn't letting the pressure get to her. As always, she plans to be cool, calm, and collected and there are lots of people who are rooting for her. Continue reading for 10 things you didn't know about Brianna Cope.
1. She Started Surfing At A Very Young Age
Surfing has been a major part of Brianna's life for almost as long as she can remember. She was only four years old when she started surfing, and it didn't take long to see that she was very talented. It also didn't take her long to realize that surfing was what she wanted to do.
2. Surfing Isn't The Only Way She Likes To Stay Active
Surfing is very physically demanding, so it is important that surfers keep themselves in tip-top shape. Needless to say, staying active is something that is very high on Brianna's priority list. However, surfing isn't the only way she likes to exercise. She also enjoys running, hiking, cycling, and other things.
3. Surfing Helped Boost Her Self Esteem
Brianna has a birth defect that has caused her left hand to be underdeveloped. While this could have easily held her back, Brianna has always made it a point not to let anything stop her. Surfing is one of the things that has allowed Brianna to feel confident in herself. According to Men's Journal, Brianna said, "The ocean is the one place I wasn't self-conscience. I feel so happy and free when I'm surfing. There is no judgement or imperfections, it's all about the ocean and its beauty."
4. Family Is Important To Her
Brianna was born and raised in Hawaii and she comes from a very close family. Although some parents would've been terrified at the idea of their child surfing at just four years old, Brianna's parents have always been supportive of her and her dreams to make it big.
5. She Is A Picky Eater
There are some people who will eat anything that's put in front of them, but that isn't really Brianna's style. Even though she loves food, she describes herself as a "picky eater". At the same time, however, she loves to cook and enjoys being able to have home-cooked meals.
6. Bethany Hamilton Is A Close Friend
Bethany Hamilton is a well-known professional surfer who survived a shark attack that resulted in her arm being bitten off. The two have known each other for a very long time and have built a solid friendship over the years. When describing her relationship with Bethany, Brianna said, "She is like an older sister to me. She is one of the most kind-hearted, supportive and genuine people I know."
7. She Is A Skateboarder
Not only is Brianna incredibly skilled in the water, but she's also got some moves on the pavement. She loves skateboarding and it's also something that she's done for many years. However, it doesn't appear that she's ever had an interest in pursuing skating as anything other than a hobby.
8. She Has A YouTube Channel
On top of the success she's had in the water, Brianna has also worked hard to build a strong online presence. Brianna's YouTube channel only has 650 subscribers at the moment, but there's a good chance that number will be increasing soon. That said, she hasn't uploaded any new content in more than a year.
9. She Likes Inspiring Others
Brianna's story is definitely one full of triumph and hard work. She has been through her fair share of ups and downs over the years, but she has always managed to keep moving forward. She hopes that her journey can serve as inspiration for other people who are looking to accomplish their dreams.
10. She Loves To Travel
Even though Brianna lives in a place that most people would consider paradise, she still likes to see what other areas have to offer. Thanks to the success she's had with surfing, Brianna has gotten to visit places all over the world. She loves learning about new cultures and she hopes to be able to travel more in the future.
Tell us what's wrong with this post? How could we improve it? :)
Let us improve this post!