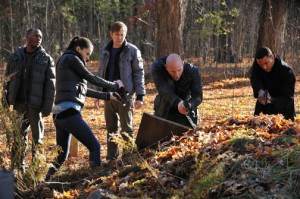 I suspect comparisons to Prison Break are unavoidable when discussing A&E's new series, Breakout Kings (set to debut tonight, March 6 at 10:00 p.m. EST). In the interest of full disclosure, I was a huge Prison Break fan (yes, even after they broke out of about 15 prisons).
It's not surprising then, that there are thematic similarities between the two shows, especially since two writers/producers of Prison Break – Matt Olmstead and Nick Santora – created Breakout Kings. Once again, the plot revolves around some cons, three of them to be exact. When yet another convict escapes from prison, the U.S. Marshalls decide to put together a task force – headed by Charlie DuChamp and Ray Zancanelli – who both exemplify two different types of cops. Charlie and Ray recruit three different cons, each with their own special brand of skills, along with a civilian named Julianne, who is sort of the receptionist/desk person of the crew and holds down the fort.
In my opinion, the most interesting character is Lloyd Lowery, played by Jimmi Simpson. He's a genius former professor who's knowledge of psychology and behavior is an incredible asset to the group. But because he's the resident genius, he also has a few quirks up his sleeve. Simpson is generally terrific in playing the 'loser/maladjusted'characters, so it's not surprising that he's the strongest of the ensemble so far.
I suppose the biggest aspect of the show that's missing from Prison Break is the feeling of working towards a goal. It's generally what separates procedural shows from more mythological shows with a season-long arc. From the first episode the characters of Prison Break had a goal – Michael wanted to get his brother out of prison and each subsequent episode brought him and his constantly-growing team a little bit closer. Breakout Kings, however, is more of a procedural. Sure, there are obviously a few potential tangent stories for the characters that are set up in the first two episodes that may get expanded upon, but there's not really an end goal that everyone seems to be working towards at this point. Since my patience with procedurals is wearing a bit thin right now, that frustrated me. However, if you prefer that type of 'tune in for the escaped con of the week'business, then this is probably the show for you.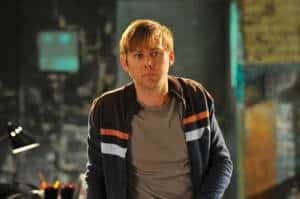 A&E sent two episodes for review. The second episode was more engaging than the pilot, so I'd urge you to stick it out for at least two or three episodes before making your final decision on the show. I am excited about the fact that Prison Break alumni Robert Knepper (who played Theodore "T-Bag" Bagwell) will be making some appearances, as will LOST and Supernatural alumni Mark Pellegrino. Both of those actors seem like they would bring a little spice to this show, and I suspect, if you put them in a seen with Simpson's Lowery, that things will get very interesting. I haven't seen Knepper's first appearance yet, but I'm willing to go on faith that the resurrection of T-Bag for four episodes will be epic.
I think you should give Breakout Kings a chance, particularly if you like procedural shows. I'm hoping that they'll be able to flush out the characters as time goes on and I'd also like to see a more elaborate breakout scene, with less of a focus on chasing them on the outside. That might shake things up a bit.
You can view sneak peeks and character descriptions here. Tune in to A&E on Sunday, March 6 at 10:00 p.m. to watch the premiere of Breakout Kings.
clarissa @ tvovermind.com
twitter.com/clarissa373
twitter.com/tvovermind
Tell us what's wrong with this post? How could we improve it? :)
Let us improve this post!