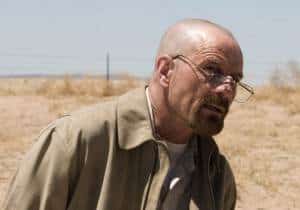 Tonight's episode was one of the three final installments in season four of Breaking Bad. A season that has pushed and pulled on the elements in the fabric of the entire story so much that in order to resolve the plot–things are going to have to change by the final hour. Walter White is experiencing the complete breakdown of all the facets of his life that he no longer has control over. Oh sure, he can briefly control the Hank situation by preventing him from winding up at the site of Gus's meth lab by throwing himself and his brother-in-law into oncoming traffic. I bet a tiny part of him felt damn good for doing it too, as though he finally had a say in something again after an entire season of getting owned by Gus in every single way. Yet it also showed that the only thing the once grand Heisenberg can do is hold things off–in this situation Walt can't make anything stop or go away he can merely stall.
So far this has really been Walt's weakest season yet in terms of his ability to take action successfully. The man who just a couple of episodes ago was nattering on about never giving up control in the face of anything to a fellow cancer patient has spent the majority of this year either hatching half-cocked schemes against Gus or wallowing at the bottom of the bottle. Yeah he's been drinking an awful lot this year and it's not doing anything to help him survive. His despair at being bested has kept him on the sidelines while a number of other factors have sprung up to make him increasingly isolated.
Just look at Jesse Pinkman for example, he proved himself down in Mexico in a big way and now with Mike convalescing beyond the border, he's currently serving as Gus'sometime number two. During a tense psychological stand-off between Walt and Gus, how Jesse came to be in this position was mentioned between the men. Gus made no real effort to deny his original intentions for Pinkman as Walt accused him of using Jesse to drive a wedge between them so that Gus himself could kill Walt without interference. But what makes Gus such a successful businessman is his capabilities to adapt in a situation.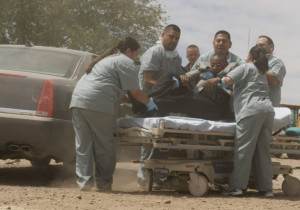 Gus spent most of the season wanting revenge against both Jesse and Walt for the Gale situation, but I think he always kept in mind that Walt '˜ordered the hit', so to speak, on Gale. Once he realized he could twist Jesse's innate sense of loyalty toward himself, he did just that. As a result he didn't die down in Mexico along with the rest of the cartel and even before then he'd started to think of Jesse's well-being in case of emergency. The blood packs Jesse happened upon at the medical facility didn't have to include Jesse and Gus certainly didn't need to inform his doctor about all of Jesse's medical specifics. It can be argued, if you like, that Gus was concerned with keeping Jesse safe as his fail-safe cook, but really he does have a video camera in the lab–Walt's method could be ascertained from the surveillance at this point.
When Walt arrives at Jesse's house to seek help I was so relieved that Jesse told Walt off as he should. There's absolutely no reason at this point for the duo to work together again either, both men have become responsible for their separate situations. You can tell that when Jesse asks Gus not to kill Walt it's because that though he may no longer care for being part of the consequences Mr. White is piling onto himself with his choices–he certainly doesn't want him dead. The only reason Walt was '˜fired'by Gus and not killed may have been because in a way Jesse could count Gus in his debt for saving his life in Mexico. Now that this debt has been paid off on Gus'end, it's an anything goes scenario unless Jesse makes an unexpected eleventh hour turn-around on Gus to save Walt and his family–with Mike in a hospital bed miles away this is definitely Gus'most vulnerable time in terms of being in a situation where he can be taken out for good.
The varying levels of Giancarlo Esposito's performance this season have displayed a tense piece of work to watch unfold. Sure, he was intimidating when he silently killed his own man in the premiere, but now there is just so much venom in his every word which could be felt especially in the scene where he and Jesse visit Hector at the nursing home. Years ago, the personal and the professional clashed for Gustavo Fring and it's easy to see the vengeful relish that he has in being able to rectify the harms that were done to him back then, all while pushing himself into a true position of power in his business. Esposito has crafted a constantly compelling portrait of a man whose careful calculation and ruthless actions make him a danger to almost every single character on this show. And that's the sort of thing that makes great TV, but the ending of this particular episode made for haunting imagery and a very heavy feeling of dread that goes beyond what most television shows provide.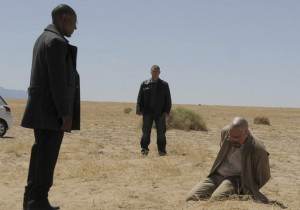 From the very moment Ted Beneke came back into the story it just felt like this was going to become a
wrench in the works that Walt needed to be informed about. The way Skyler tried to handle it on her own, it was admirable. She even got her hands dirty with Saul once again, having him get two of his men (the return of the always entertaining Bill Burr as one of those men) out to Ted's place to demand he write the IRS that check so she could prevent an investigation of herself and then Walt. But she made the mistake of giving a weasel like Ted money in the first place instead of letting Saul help her in the first place. Even though that didn't end ideally, but at least the check is in the mail. But in order to save them, Skyler's actions have led to the least bloody exit strategy being taken off of the table.
Walt scrambling for cash in his crawl space and then realizing he didn't have enough to pay Saul's expert '˜vanisher'in an attempt to finally be free of all of this was an image from this series that will stick in my mind long after it's gone. Skyler tearfully explaining she had to do it as Walt writhes and sobs in the dirt before he snaps and just starts laughing at the cruel joke of Ted Beneke once screwing his wife now screwing him, in a manner of speaking, was too much to bear as he rolled flat onto his back in the crawl space. Down the hall, Marie called in a panic as Saul had made the anonymous call for Walt to warn the DEA that the cartel still wanted Hank dead.
Everything is bearing down on his family now as Walt can only stare up from the dirt. When the camera started pulling back to reveal the image of Walt in the '˜grave'of his own making it really gave the audience a feeling of '˜are you sure you know how this story is going to end?'Breaking Bad strives to be a little more unconventional in every season and it wouldn't surprise me in the least if Walt didn't live to the series end. But he's clearly not going out quite so soon. His family's lives are on the line and if you don't think Gus would murder everyone, even the children, then he's seriously being underestimated in your mind. So he's going to have to act, there simply is no other choice in the matter at this point.