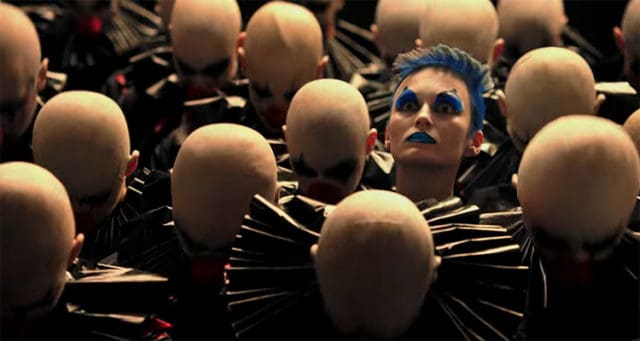 It's coming up and the countdown has already been in full swing. American Horror Story: Cult, is making its way back to FX and it's doing it in one of the most disturbing ways possible. It's depicting real life, the same horror that so many people in the country had to deal with as of late 2016.
Donald Trump has become the POTUS.
Opening up with the first and most detailed trailer thus far is the reaction of both Sarah Paulson's character as well as that of Evan Peters. Needless to say their reactions are quite different. All is not well in Paulson's neck of the woods though as she has to deal first with the election results and then with something far more diabolical.
Clowns, clowns, EVERYWHERE.
If you're coulrophobic then you might want to skip this season of AHS, because quite literally it looks like the clowns are coming and they're going to be anything but entertaining. The trailer kicks off with Paulson and Peters each having their own reaction to the election of the current POTUS, in which Peters looks excited to say the least. But shortly after it can be seen that Paulson's character is having a serious issue with clowns, seeing them, imagining them, and having a serious breakdown because of them.
Twisty makes an appearance, kind of.
He's given to a young boy as a gift and is just a doll. But you also get to see his likeness on a comic book as well. And then there's the clowns that are milling around the entire trailer looking absolutely creepy and not at all friendly. This season could be based on some kind of cult that's sprung up around Twisty, which would be insanely creepy.
Peters' character could have something to do with the cult.
Just looking at the trailer it would appear that Evan Peters' character is bound to having something to do with the continual harassment of Paulson's character. It could be a personal grudge, a political thing, or just any kind of vendetta that involves setting some kind of clown cult on her. People with serious psychological issues don't necessarily need a reason to do something that messed up.
Paulson is going to be a target.
Seriously it looks like she and several others, possibly her closest friends and/or constituents, might be headed for a world of trouble as this strange cult singles them out. If it's run by Peters then there's a chance that the two of them will meet onscreen again and it could be an epic confrontation of some sort. AHS is known for eventually making that one climactic moment seem like it will take forever to come. But when it does you need to be ready or you might miss something really important.
So far Paulson looks like a woman on the edge and Peters looks like a guy that's ready to "make America great again". Chances are the election won't have a whole lot to do with it, but it definitely kicks it off.