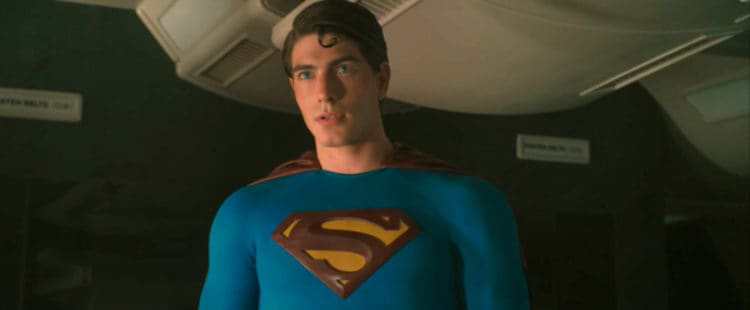 As of right now there appears to be some uncertainty with the whole Superman angle when it comes to the DC universe but it does sound as though Jessica James of We Got This Covered and many others are convinced that Brandon Routh could be getting his own show as the man of steel. Such a development has some people wondering what this could mean for the DCEU and for the Superman show that Tyler Hoechlin will be starring in, and the idea that Henry Cavill could come back and Michael B. Jordan could even get tossed into the mix. It's a big jumble of ideas at this point that thankfully aren't so confused that one can't sort them out, but are still just overwhelming enough to make a person wonder just how the Superman story is going to pan out in the next few years. From a TV standpoint it would appear that Brandon Routh could possibly be taking up where he left off with Superman Returns, which could be interesting since Clark had found out by this point that he had a son despite Lois being married and not disclosing the truth about her child. This story line could be kind of intriguing since it would raise a lot of moral issues as well as a possible problem with paternity given that the kid did show evidence of his budding power while held captive by Lex Luthor.
That's another element to think of as well since Luthor was stranded at the end of Superman Returns, meaning that the snag that Superman put into his plans, basically tossing his kryptonite-infused island into space. How Lex will be shown to come back from that one could be a major plot point moving forward since Superman without Lex Luthor somewhere in the wings would be kind of like Batman without the Joker presumably off in the distance somewhere, it just doesn't feel entirely right. How the showrunner would fix this series to work however is still kind of a mystery since Superman, like any other hero, has a virtual host of enemies that he's tangled with in the comics and no shortage when it comes to those that might appear later on. Given how many enemies have shown up on the CW throughout the years though it's kind of hard to say what direction the Routh-led version would go in since there's a good idea that this show wouldn't want to intersect too much with the Hoechlin version. Or maybe it would, it's hard to say since the Crisis event could have generated enough interest to see more crossovers that would include more heroes and more enemies that the fans would enjoy seeing. John Orquiola of Screenrant has more on this subject.
When it comes to the list of people that have played Superman there are still those that happen to believe that Routh should be lower on the list since Superman Returns wasn't exactly the best movie of the bunch but it did bring back the iconic superhero in a time when people were at least willing to watch another version that was somewhat close to that of Christopher Reeve. Some might say that Henry Cavill was the worst among them, but in a big way the idea of who played the best Superman is entirely subjective since each actor that's donned the suit has had their own strengths and weaknesses and have been lauded by a fan base that tends to believe in each of them. Christopher Reeve of course was THE Superman for a good long while and the guy that many credit with having brought the man of steel into the big time since the movies he starred in were among the first of the major motion pictures that really kicked the hero into gear. In a big way Christopher Reeve became an untouchable when it came to his part as Superman since he's still held up to this day by fans that aren't willing to drop him from the top spot where he's been ensconced for so long. Richard Newby of The Hollywood Reporter has more to say on that matter. But when it comes to the rest there are still squabbles about who played the part better, who made it work, and who kind of dropped the ball. From a personal standpoint none of them have really been that bad that they've done a serious injustice to the part of Superman, but a couple of them are a wee bit shaky as compared to others.
If one were to admit that each actor had their strengths when it came to the part it might be easier to imply that just about all of them are good enough no matter what fans think, but of course the continual argument is that this person is better than that person and so on and so forth. Routh played a decent Superman, there, I said it, and as far as getting his own show and pushing the Superman Returns narrative forward it could be worthwhile.
Tell us what's wrong with this post? How could we improve it? :)
Let us improve this post!