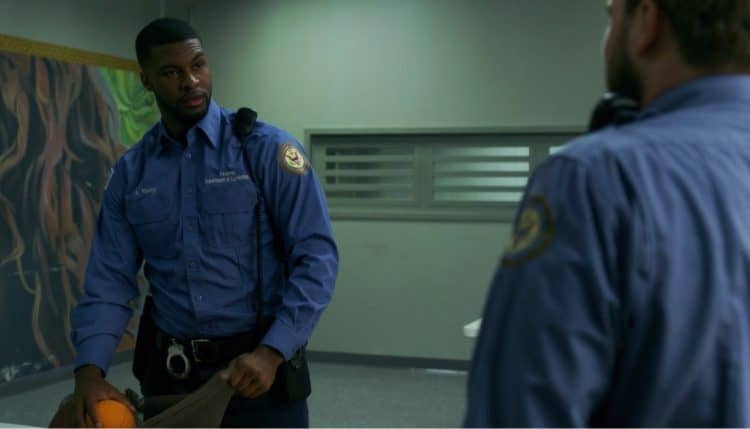 Branden Wellington was born in Indianapolis, IN USA as Branden Emanuel Wellington. He is an actor best known for Orange Is the New Black (2013), When it All Falls Down…(2014), and Blue Bloods (2010). He's also an Emmy Award winning spoken word artist. He's written and starred in several spoken-word poetry projects for the NBA; He was nominated for 2 Suncoast Emmy Awards (Writer/Performer) for "TV Dreams In A World of Sports"- capturing the Emmy award for writing.
Luckily we had a chance to reach out to this budding star and he shared some information with us that we're pretty sure the public doesn't know yet. Here are 16 things you didn't know about Branden Wellington.
I come from a big family. 5 Younger brothers, a younger sister, an older sister, and an older brother. (My older brother passed away in 2013.)
In the 4th grade I was a big fan of nickelodeon, so my mother surprised me with tickets to a celebrity basketball game that featured my favorite childhood comedians- Kenan Thompson and Kel Mitchell from "Kenan & Kel". At the game I kept cheering their name over and over again, so they finally came over to speak to me. I told them I loved their show and how it was my dream to be on nickelodeon, so Kenan gave me the phone number to Nickelodeon Studios, but I lost it when I got home. I did however make the local news for being "the adorable super fan" so the day was saved.
I now do Billboard Voiceovers for VH1 at the Viacom building in Times Squares. Ironically our voice over studio is on the same floor as Nickelodeon- and I got to voice over one of their "Shopkins" commercials this past summer.
I can do a pretty decent "suave Denzel Washington" impersonation.
I delivered the opening hype-up monologue to Game 3 of the 2015 World Series in front of a sold-out crowd of nearly 45,000 people. To this day, it was my most memorable experience as an entertainment sports host.
My favorite comedian is Chris Rock. I probably know the punchline to all of his stand ups. I met him for the 2nd time during that World Series and we actually talked baseball for a few innings. At the end of the game we took a picture together, but I never posted it because Jerry Seinfeld jumped in it too; but I don't have the guts to Diddy-crop Jerry Seinfeld, so I'll share both pics if I ever get a solo one with Chris. I ran into him again one year later when I was on a date. He actually walked past my table, said what's up and we talked Mets Baseball and his upcoming tour for about 44 seconds. It was the last time I saw him and the girl I was on a date with.
I briefly pursued stand-up comedy but stopped to put my focus on pursuing acting. I was afraid to get branded as a stand-up comedian when I thought I was actually stronger with drama. Looking back- I probably could've pursued both simultaneously but I got my fix for live performances doing spoken word and entertainment hosting.
The first poem I ever had published was in the school newspaper during the 7th grade called "The Essence of Time". It was a think piece about cherishing your youth, creativity, and making the most of each moment.
I used to rap when I was growing up. I credit that to helping me get over stage fright and learning the ins and out of working an audience.
David Letterman and I both graduated from the Broad Ripple high school in Indianapolis. Different years of course. The school recently closed this last year. I played on the basketball team when I was a freshman and one day before practice I got into a heated argument with George Hill for cracking jokes on his little cousin. He's now the point guard for the Cleveland Cavaliers and I haven't spoken to him since that moment. I doubt he remembers me or the incident.
My High School colors were Orange and Black. The 2 basketball teams I played on before high school, colors were Orange and Black. The day I won an Emmy for writing, I got picked up from the airport in a Lyft that was Orange and Black. And my first recurring role is on Orange is the New Black. I call them my life colors.
I'm an avid chess player. In Hight School, I was chess team captain and founder.
I consider myself a competitive gamer and I spend a decent amount of time playing NBA 2K annually. A few years ago, my Pro-Am team was ranked within the top 20 teams in the country.
My first job in NYC was The Gap on 17th and 5th Ave. It was a Christmas seasonal job so when it ended, I worked at McDonald's to get through the rest of my first year of acting school.
I worked at an Italian restaurant for 3 years and my managers Uncle was Miss J from America's Next Top Model. I used to eat Thanksgiving dinner with their family the years I didn't have the time to… or could afford to go home for the holidays. He and I became friends and he helped me get my 1st job in the industry working behind the scenes as a crew driver and talent PA for ANTM.
When I lived in Florida, I met a Prophet who told me that he saw 3 scholarships in my future. I've since won 2 scholarships and my dream has been to one day open a scholarship foundation and give away the 3rd.
Tell us what's wrong with this post? How could we improve it? :)
Let us improve this post!