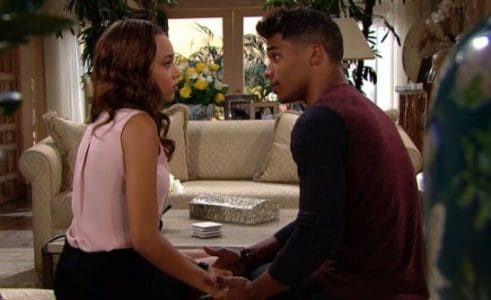 The Bold and the Beautiful fans aren't going to stop feeling a little smug that things just aren't working out with Zende and Nicole. We all knew from the start this would not work out. Not only is this one couple who refuses to do the who compromising so they are both happy thing, they refuse to listen to one another, and they are both very whiny, very pouty, and very immature. So of course they should get married and try to have a baby that they can't have.
Zende is being honored at a party. We already know that Nicole chose not to attend said party. She has better things to do. After all, she is a model now. And models have a hard job ahead of them. They have to do this thing where they go out and work and then want to come home and take a long bath. So that's what she does. And Zende decides that's not a good enough reason for her to miss the party.
Regardless why she decides not to celebrate her husband, they're both childish. You celebrate accomplishments with your spouse, but you also understand when exhaustion hits and it's time to call it a night. But these two would much rather pout, have a fit, and basically carry on so they end up in a fight and their marriage turns to a mess yet again. How much longer are we being forced to endure this marriage?