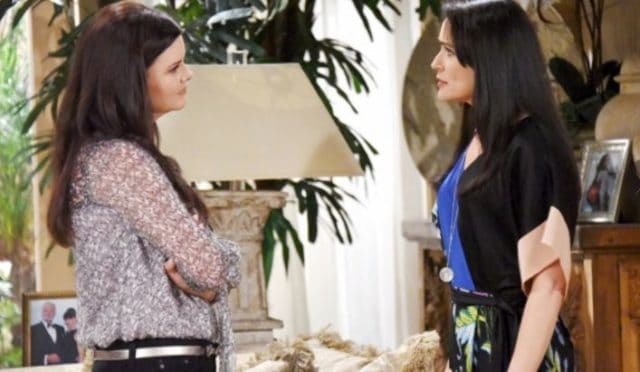 The Bold and the Beautiful is bringing the drama. It looks like Katie is going to work on being a force this week, and she's not going to do anything that anyone wants her to do. She's not going to bother with sparing feelings right now, because she's not been given the same consideration in the recent past. Katie's entire life has been one that people have questioned. She says her childhood was bad. She doesn't realize she's lovely, and she has zero self-esteem. This make her a busybody who cannot stay out of anyone else's life, and she cannot seem to get her act together. She's been hurt and betrayed by her own sister, her husband, and so many of the people she loves most in the world. She's just not a happy person.
She's been an emotional mess for as long as we can remember, and we are loving that she's turning into a catty and dominating force. Seeing her treat Quinn the way she's been treating her with power and a winning attitude has been a nice change, and we like the idea of her taking Eric from Quinn after all that Quinn's done to her and her family. Will she be able to follow through with the idea she can do what she wants and finally gain a little self-esteem?
It turns out that Ridge is not going to let Brooke go so easily. He was wrong, and he knows it. In fact, he hasn't actually made that much of an effort to stop seeing his mother-in-law, but he wants to marry Brooke to make his father happy and put their family back together. He will apologize and admit his wrongdoing to Brooke, but then he's going to do what he does best by throwing the stones at her to make her the person at-fault. He'll remind her she lied about the paternity of their children, that she did things wrong, and that they should call it even after all they've done to hurt one another. What she did wasn't right, but they've already dealt with that. Ridge is being tricky.