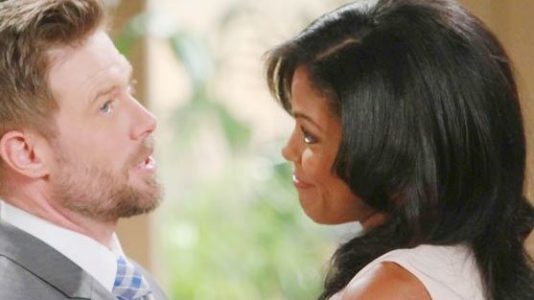 The Bold and the Beautiful fans are going to see a little steamy time between Rick and Maya this week, and it's about time. They've both been so focused on things that aren't their marriage lately, and it has not been good for them. They've been focused on things like the way they feel about one another, the way they feel about things they can't control, and the way they feel about things that aren't their business. For one, Maya has been entirely too focused on the lives of her sister and her husband.
And Rick has been more than a little focused on the life of his mother and her new husband. He's made no big secret of the fact he does not want to see his mother married to Ridge, but that's not something she was willing to negotiate. However, she did make a deal with her son, and we think that might change the way things are going just a bit. She might have more to offer him that she realizes, and he might just be using his own mother to get what he wants.
And that's not good news. But what we will see is that he and Maya are going to take a little time to themselves to do something they need to do. They will focus on this and what they want to do, and they will focus on how they want to do it. They are going to get back on track.