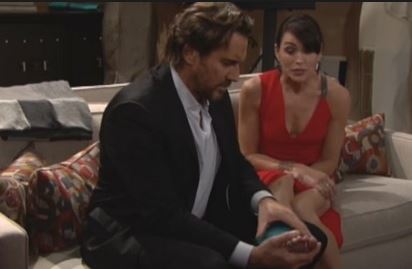 The Bold and the Beautiful is all about Ridge and Quinn. They just cannot stop themselves from what they're doing, even though they promise they'll put an end to it. They're lying to themselves, to Eric, and to everyone in their lives. Ridge no longer has anyone to answer to in the form of a woman, but he is messing around with his dad's wife, so that's a big deal. They can't seem to stop, so what will they do now? They know they have someone who knows about them and plans on taking them down, but will they put an end to it? No; they won't.
Right now things aren't looking good for them. Quinn is the subject of Katie's fury, and she's not letting her anger go. She's been fired, and she's not sure why Quinn is allowing this. It's her opinion that Ridge and Quinn should be working very hard to ensure that Katie not only gets her job back, but that she has a better way of living after this.
She's going to explode on Quinn, and Ridge will find himself in the middle. Is this when Eric will finally realize something is going on? Will he see them working together, or will he find out because Katie can't keep her mouth shut? What we suspect is when he finds out, it will be entirely by chance.