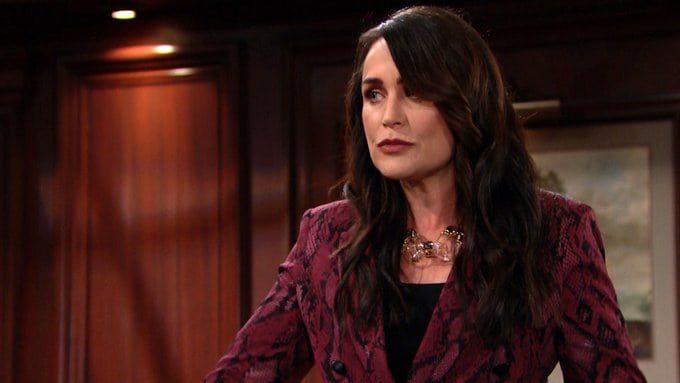 Bold and the Beautiful fans know that Quinn is never going to apologize for what she did. If she does by some strange and odd chance, she will not mean a word of it. She will only do it because someone threatened her or told her she has to or is making her for some reason. But, she will not mean it. The fact that Bill is so adamant that she say sorry is too much for us. Why does he think that this will make a difference to anyone at any time? But, he's pushing for it, she's not at all falling for his ways, and this is probably one of the most hilarious things we've seen in a while. She's clearly not going to back down, and he is desperate enough to ask her to more than once. She's loving this power.
Ridge and Shauna had the most amazing week in Vegas, even if he did wake up one morning with a huge hangover and the realization that Brooke was in his room. He's not happy to see her there, but we can assume that she is less than happy to find him there. She's looking to see if they can make things work, but she's having to beg for his forgiveness while he is off in Vegas with another woman having the time of his life. This is not a good look for any of them, but she's not going to find that he is overly happy to see her or hear her out. He's tired of her business and her issues and her continuous flings with Bill. He may never forgive her again, and that's all that we can see out of this situation. Plus, we are into him and Shauna together.
What's Happening on Bold and the Beautiful
Don't miss an encore presentation of a #BoldandBeautiful episode shot on location in 2014. It's got romance, intrigue, suspense, and more! Make sure to tune in tomorrow, and we'll pick up right where we left off today on Monday's all-new episode. pic.twitter.com/93SLIUVJGi

— Bold & The Beautiful (@BandB_CBS) April 16, 2020
Flashbacks are our new favorite.
What's Next on Bold and the Beautiful
Sally sees a happy ending with Wyatt, but there's just one thing in the way. Tune in to see what happens on #BoldandBeautiful this week! pic.twitter.com/CYtt2EUxZo

— Bold & The Beautiful (@BandB_CBS) April 12, 2020
This is a week we are going to see a lot of pain. Wyatt feels so much guilt about asking Sally to move out of his home at Flo's urging. He is not sure what he really wants right now, or how he wants to handle things, and he's not sure what to do in his life. He's not sure that there is a way for him to get through this without hurting someone, and he cannot handle the thought of hurting Sally yet again. But, he's not sure what to do, and how to prevent himself from losing Flo entirely. It's a bit of a situation, and he caused a lot of this by agreeing to Flo's horrible plan in the first place. On the other side of things, we are going to see that Flo is being a horrible person, too. She's playing a trick on Sally, and Sally is going to realize this.
She's going to know that this is a woman who set her up to fail and to lose everything she loves, and she's about to be done with all of that. Ever since the day that Flo showed up here in town, it's been a big problem for Sally. She's not happy with this, she's not having a good time with any of this, and she's not able to get over this. She's done, and we have a feeling that things are going to lead to a bigger issue in the near future. We cannot decide what this means, though. Will she hurt her? We might assume so.
Stay tuned for more The Bold and the Beautiful and be sure to check out TVOvermind daily for the latest The Bold and the Beautiful spoilers, news, and updates.