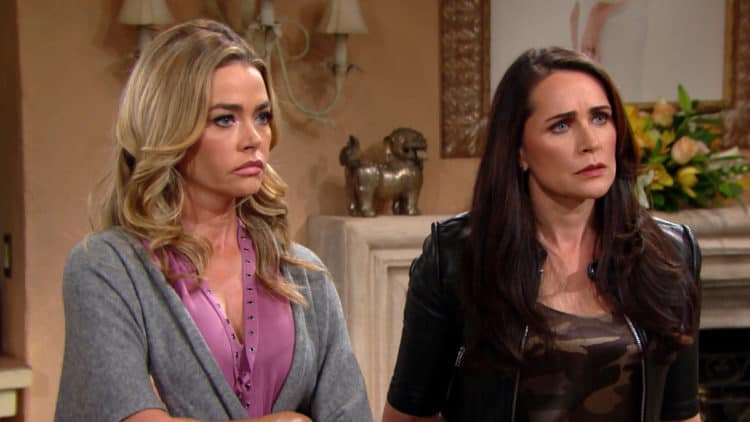 Bold and the Beautiful fans are not happy that Wyatt still loves Flo. We hate that more than anything. For one, it speaks so lowly of a man who is so much better than that. Wyatt is not the kind of man who has feelings for a woman who lies, steals, cheats, and continues to watch lives break and things work out the way that they did. She's indirectly responsible for the death of Emma, too, because her lies continued to go on and allowed someone to kill her as a result of her knowing the secret. She's a monster and a whiny kind of gal we cannot get on board with. What we do like, though, is that Sally basically told him to get over that and move on from it because she's a monster. And we did get to see her head straight to Flo's apartment and tell her to get lost.
Hope and Liam are no longer a thing, and Thomas is very happy when Hope shows up at his door and looks for some comfort in the situation that has occurred. He's got all the comfort she needs, and she's someone who doesn't make much sense to us allowing this to continue. She knows how he feels and what he wants from her, and this is not something we think is smart or wise on her part. But, she makes little sense. Whatever. She's going to let him comfort her, let him be there for her, and set off yet another chain of events we all know will be a mess in every single manner of speaking. It's not going to go well for anyone, and that's just a situation we cannot handle. But, for now, we get to see things unfold as best as we can.
What's Happening on Bold and the Beautiful
Seems like this battle has just begun…Whose side are you on? #BoldandBeautiful pic.twitter.com/Mt3ALnDl0O

— Bold & The Beautiful (@BandB_CBS) January 16, 2020
We are on team please bring the crazy Quinn back out to play and make things interesting again. It's been too long.
What's Next on Bold and the Beautiful
Team Brooke or Team Quinn? You won't want to miss a minute of #BoldandBeautiful this week! pic.twitter.com/yIok59YBbl

— Bold & The Beautiful (@BandB_CBS) January 19, 2020
Eric has to put himself in the middle of something he's not really ready to put himself in the middle of, but he has to tell Quinn where Shauna is living. This is not going to come as good news for the friend, and this means she's going to end up even more upset, angry, and blameful of what is going on in Brooke's life. She's never been that big of a Brooke fan, and that's being very generous in terms of what she really feels, and this is just adding fuel to her fire. We cannot handle what might happen otherwise, but this is one of those days in which we just don't know if there is much more to it than that. She's not going to be happy, and she's going to do all she can to rectify what she considers a big situation.
Then there is what is going on with Thomas, which is when he interferes with his sister. She plans on telling Liam the truth about what happened and how it all went down, but he is going to get to Steffy first, and he's making sure she knows what is about to happen to her if she opens her mouth and shares a thing he just said to her. We cannot help but feel that there is a lot more going on that we want to see, but there is so much we cannot let fall to the floor and end up making poor choices for everyone. We can see things changing, though.
Stay tuned for more The Bold and the Beautiful and be sure to check out TVOvermind daily for the latest The Bold and the Beautiful spoilers, news, and updates.
Tell us what's wrong with this post? How could we improve it? :)
Let us improve this post!