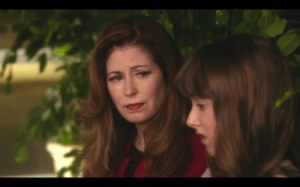 So, did Body of Proof keep you guessing right to the end this week? I was definitely questioning the entire episode. I haven't seen Hannah Leigh Dworkin (Darby Stone) in any notable roles before but I have a feeling this is an actress we are going to see a lot in the future. Her portrayal of the conflicted teen was outstanding and that is really saying something when she appears alongside not only Dana Delaney but also the remarkable Sharon Lawrence as Julia Stone. The two performances of mother and daughterwere so convincing that I could not work out the guilty suspect until moments before the reveal.
Personally, I find these kind of episodes where there is the murder of a young child quite hard to watch. I think that's what made the storyline so intriguing. The fact the a little girl could be killed at all is so hard to stomach to begin with, but to have mother or sister being held responsible is difficult to believe. On the other hand I also thought it was incredibly sad that the original murder, the death of the girl in the asylum was such a means to an end. Not only for the killer, of course but also in the way that she became more a part of the evidence than a victim. We never find out much about her unless it furthers the pursuit of Darby's declarations of her false imprisonment.
I didn't love Megan in the episode. Don't get me wrong, Dana Delany was brilliant, as usual, but Megan spent so much time projecting her own feelings onto Darby, that she couldn't see the wood for the trees. She also drew parallels between her mother and Julia and so never really gave the latter a chance to be innocent. The inquest into Megan's father is still being addressed in small ways in each episode, which is great for the continuity of the season. To be honest though, I'm a little over the fight between Megan and her mom over the legitimacy of looking for information on the apparent suicide. The mother/daughter dynamic has been evolving over the course of the series but I think the show is now at a stage where I'd like to see them quit squabbling every time they meet for lunch or drinks. I'm looking forward to seeing them delve deeper into that mystery as season three comes to a close.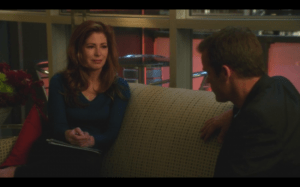 The possible relationship between Tommy and Megan hit a road bump this week when Megan suggested that they leave their past in the past. However, this seems like a momentary blip on the romance radar. While there are other interested parties in both Megan (Luke Perry's Charlie Stafford) and Tommy (Riley Dunn, played by Marisa Remirez), neither of these alternative matches offer much competition. Speaking of which do we have a name for the Tommy/Megan romance yet? Tegan? Memmy?
Overall it was a great episode from a tension point of view but I would like to see a little more character development across the whole cast. I'm really missing the humor injected into the episodes of the past by Curtis and Ethan, so could we see a little more of this before season's end please?
Tell us what's wrong with this post? How could we improve it? :)
Let us improve this post!