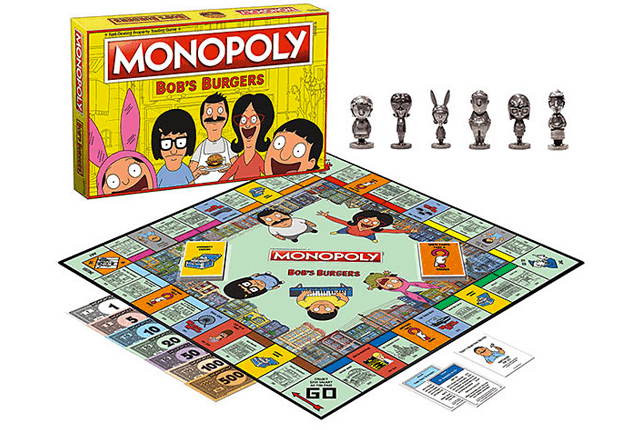 Monopoly is one of the best board games of all-time and I just don't think I'd get too many arguments against this statement. What's been interesting is that Monopoly is finally getting around to doing more themed versions of its game. For example I've been playing a Minions themed Monopoly game at home for the past month that my son is obsessed with. I'm completely sick of it by now but it's nice to know that there are games out there in addition to standard Monopoly. I'm personally waiting for a Game of Thrones Monopoly but that could take years to develop.
If you're a fan of Bob's Burgers and you like Monopoly, you're in luck. Give Mr. Fischoeder a run for his money and take over the real estate on Ocean Avenue. In the officially licensed Bob's Burgers Monopoly game, two to six competitors play as one of the Belchers (or Teddy) as they slowly try to win over the boardwalk.
The themed game, available on ThinkGeek, features locations from the show, including modest apartments and elaborate mansions. Monopoly's usual Community Chest and Chance Cards are now called Community Garden and White Pants Take a Chance, and even the money is on-theme.
I think I can safely say that this is a game we can all get behind.