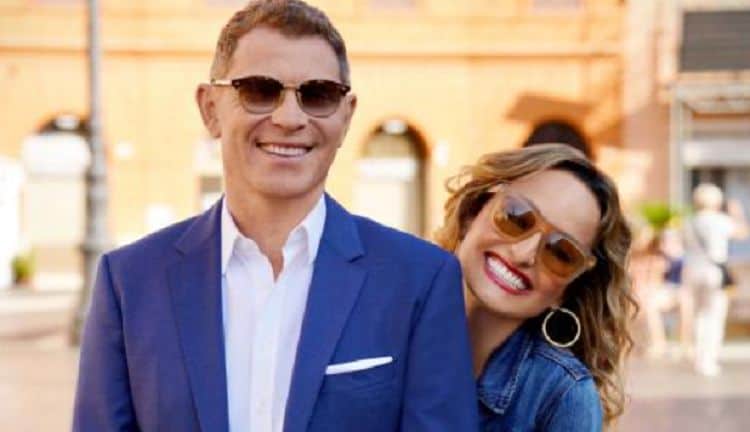 Bobby Flay is easily one of the most well-known chefs in the business, and people all over the world love seeing him in action. After a series of successful cooking based shows, Bobby has decided to try something else. This time, he's also enlisted the help of fellow chef, Giada De Laurentiis. In their new series, Bobby and Giada in Italy, the two venture around enjoying the scenery and trying different foods. Those who loves to travel but have been stuck at home due to the pandemic will love getting the chance to 'trave' to Italy through the screen. Additionally, if you're a Bobby Flay fan, this isa show you'll definitely want to check out. Keep reading for 10 things you didn't know about Bobby and Giada in Italy.
1. Bobby Came Up With The Idea For The Show
Pitching a show to a major network isn't an easy thing to do, but when you're Bobby Flay you've got the pull to do it. According to People, Bobby came up with the idea for the show and immediately thought of Giada as the perfect person to go along on the journey with him.
2. Filming Began In 2019
The process of making a show a show can take a lot longer than many people realize. Although Bobby and Giada didn't premiere until 2021, they actually filmed the show in 2019. Reports about the show initially began to circulate in 2019 although the premise was unclear to the public at the time.
3. The Show Is Streaming Only
As streaming services become more popular, many major networks have decided to hop on the bandwagon. In 2021, Discovery launched its own streaming platform called Discovery + which is where Bobby and Giada in Italy was released. It's important to note that the show is only available on the streaming service and won't air on the actual Discovery Channel.
4. Viewers Will Get A Unique Look At Italian Cuisine
There are lots of shows about people traveling to different parts of the world and trying food, but Bobby and Giada in Italy isn't your average show. Giada was born and raised in Rome and has an insider's perspective on some of the best places to eat and different methods of preparing food.
5. Season 1 Has 4 Episodes
If you're looking for a show with lots of episodes, Bobby and Giada in Italy might not be the best fit. Season one will only have 4 episodes, each of which is an our long. At the same time though, you can rest assured that each episode will be full of fun, excitement, and good food.
6. Bobby And Giada Aren't Dating
Anyone who has seen Bobby and Giada together has probably noticed that they have undeniable chemistry. As a result, it didn't take long for rumors to start flying that they might be more than just friends. According to The Netline, however, Giada has a rule against dating other chefs. In an interview about her friendship with Bobby, Giada said "I think that Bobby is one of those people that if you are his friend, he has your back forever and he will stand up for you. He's one of those guys you can be in a pinch and he will get out of it. He's special in that sense."
7. The Show May Be A One Time Thing
At the moment, it's unclear whether or not the show is meant to just be a four part mini-series or if it's going to be renewed for another season. There's a chance that the network could be waiting to see the ratings before making a final decision, but so far people seem to be loving watching Bobby and Giada together.
8. Bobby And Giada Have Their Own Adventures, Too
While most of the show will focus on the things that Bobby and Giada do together, there will also be times where they each venture out and do their own thing. After all, since Bobby is only visiting Italy, he will likely have some more tourist type things that he wants to check out. This will give viewers a chance to see things that interest each of them.
9. The Show Doesn't Have It's Own Social Media Accounts
These days, it's very common for TV shows to have their own social media accounts. A strong online presence allows viewers to keep up with shows in between episodes. Unfortunately for Bobby and Giada fans, the show doesn't have any social media accounts but fans can still follow Bobby and Giada separately on Instagram.
10. The Show Isn't Just About Food
Although the show airs on The Food Network, it doesn't just focus on food. Bobby and Giada in Italy will also give viewers a chance to see the immense beauty that Italy has to offer. They will spend time talking to locals and exploring the historic culture of the area.
Tell us what's wrong with this post? How could we improve it? :)
Let us improve this post!