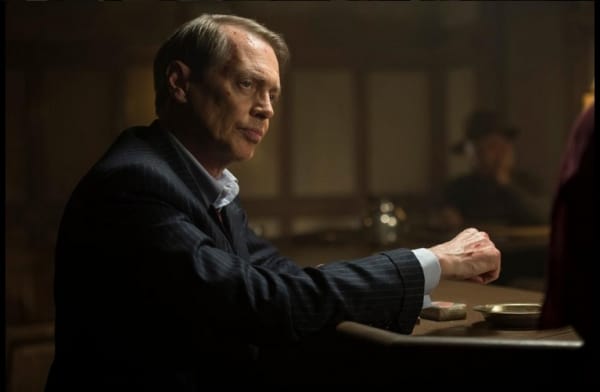 "All a dream to begin with. Ain't nobody ever been free." – Chalky White
The line above, uttered by the late, great Chalky White to Dr. Narcisse are the last words shared between the two men. While Chalky may be commenting on the pair's differing views of how their race has restricted them throughout their lives, he's also perfectly summing up the life of each character on Boardwalk Empire, as the men in this episode, as they have been throughout much of this final season, are shackled by their pasts.
There's no other place to begin than with the two biggest moments of the night, the deaths of Nelson Van Alden and Chalky, who meet their demises due to the lives they used to lead. For Van Alden, it's because the feds strong-armed him and Eli into trying to steal records from Al Capone, an operation that almost immediately goes south as soon as the two of them enter the room and only gets worse from there. Van Alden's death is quick, sudden, and bloody as Mike D'Angelo shoots him in the head, but it's also the perfect way for the character to go out, with his hands choking the life out of Capone and his voice taking on an almost God-like, Judgment Day-quality, announcing to Capone that his true identity isn't George Muller but federal agent Nelson Van Alden.
Similarly, Chalky's death is also well-suited for his character, the price he pays for trying to make penance for his sins by saving the life of Daughter's child (and most likely his own, although we never get actual confirmation on who her father was). Chalky knows full well that when he agrees to work with Narcisse and allow for Daughter and her daughter to leave peacefully (with the promise the Daughter will also potentially get a record deal) that he's signing his own death certificate, but he doesn't care. Not only does he love Daughter (whose voice is both beautifully and tragically the last thing he hears before he dies) but by saving her child, he also is sparing another young life from being taken–he ensures that Daughter's child does not meet the same end that his own daughter did because of him.
And while Nucky's memory of his past doesn't culminate with his death in tonight's episode of Boardwalk Empire, it does find him going on a bender as he tries to "get in touch" with some of "his people," the poorer, lower class. which is where he originally came from before he became the King of Atlantic City. Nucky embracing his roots ends with up beaten and robbed by two women that seduce him, but it also leads to something even more tragic for Nucky, as a memory that he never wanted to resurface does–the first time he met Gillian, the young, innocent girl who he would disgustingly deliver to the Commodore as a way to "get ahead."
Even though "Devil You Know" finds many of our main characters dealing with issues of their past, this episode made me more excited about Boardwalk Empire's future than I have been all season long. We've only got two episodes left and still a heck of a lot of story to tell, but everything, including the flashbacks to young Nucky in 1897 (which were excellent this week), is beginning to come together.
"We saddling up for a showdown or not?" "We are." Bring it on, Boardwalk Empire. I cannot wait.
Other thoughts:
– A couple of episodes ago, Nucky received a letter from Nellie Bly, and I wondered who it could be from. I believe I know have my answer, thanks to tonight's flashbacks. Nucky's been receiving letters from Gillian, who has been writing to him from the mental hospital. This has to be how Gillian's role this season somehow gets tied into the main story before the series finale.
– With Val Aden dead and Mike D'Angelo in possession of Capone's ledgers, where do you think Eli goes now? He's got to be heading back to AC to help Nucky out in this fight, right? What else would he do in these final two episodes?
– Two interesting things from this week's flashbacks: we find out that Nucky initially (and maybe still does) hated when people called referred to him by that name and that Mabel is pregnant. Also, how charming were Marc Pickering and Maya Kazan as young Nucky and Mabel in that scene together? Everything between them felt so real, and it was due to the great writing and their fantastic performances.
– I cannot stress how much I loved the final scene of this episode. If there's one thing that Boardwalk Empire may do better than any other series on TV, it's character deaths, and while Van Alden's was great, Chalky's was absolute perfection. I especially loved how "Dream a Little Dream of Me" immediately stopped playing with the gunshot. Then cut to black and nothing. That's some incredibly well-made television right there.
What did everyone else think about tonight's episode of Boardwalk Empire?
Photo via HBO