Poker is a game that fascinates us for many reasons, but chief among them is the ability to take something worthless (like a bad hand) and be able to win with it. Starting with nothing worthwhile and eventually succeeding is a virtue as American as American gets. Not relying on luck or fate to set our course, but to make our own through sheer skill is how one wins poker but it's also how one succeeds in swindling. Poker as a metaphor for the American Dream isn't perfectly suited (too many variables), but as a metaphor for how to corruptly play the American Dream it is. To thrive in poker doesn't take skill of righteous virtues or decency; it takes adroitness in bluffing and posturing. One doesn't have to cheat or break the rules to be victorious; all they have to do is play the system. This is where the parallels between poker and mob life go hand in hand and why so many films and TV shows involving gangsters show them playing it (Besides the obvious fact that they do play it). No one becomes a gangster for the fun of it; they do it because they've been dealt a bad hand in life. Poker is the perfect summation of the gangster ethos, to win big or go home. Of course, both luck and skills of shamming can only lead a player (and gangster) so far. To really prevail with the hand you are given, one must know when to fold them.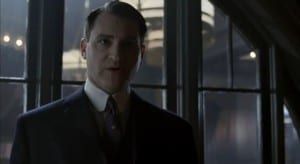 Arnold Rothstein is not that man in "All Inn." Unable to subjugate his pride, his compulsion for gambling won't let him stop. Boardwalk Empire is a show filled with characters that aren't able to stop. Whether it's Gillian's recent heroin addiction, Capone's reckless abandon, or Nucky's risky capitalistic endeavors, these people are caught in a circular loop of ever escalating problems. It was strange to see the always composed and efficient Rothstein (brilliantly played by Michael Stuhlbarg) to be off his game. One of his poker opponents relentlessly teases him throughout the game, putting me on edge every minute wondering whether this would be first time we see the ever calm Rothstein lose himself in aggression.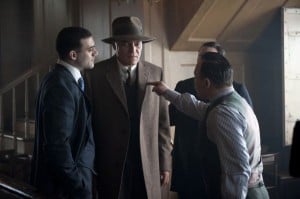 As you can probably tell I was extremely infatuated with that poker scene, as for the rest of "All In," it was more of a mixed bag. I feel as the show will never jump over the hurdle that it puts forth by having too many unnecessary and uninteresting characters that make up the bulk of episodes. A good example of this is Eli's son, Willie, who apparently doesn't know how much acid one puts in a drink to make a person sick and not dead (Seriously has he not seen "Breaking Bad"). I've mentioned the things I didn't like about Willie's plot in the past episode and rather than fix them, "All In" let's the annoyances simmer in a Willie concocted stew. I don't understand (besides to hit a younger age demographic) why we have a Willie sub-plot within this show. Some of these characters (like Rothstein) are not only fascinating but played by the best actors around. It annoys me considerably to see such an unnecessary storyline within a show that could easily use that time for fleshing out established characters. It's a problem I'll probably have with Boardwalk Empire to the day I die, but until then Willie can suck my Willy.


Speaking of not enough time to develop something interesting, I feel like all the Chicago scenes haven't exactly fit into this season very well. This episode in particular made me curious if Boardwalk Empire's structure of trying to fit in many characters within an hour actually serves to tell he best story. Wouldn't it have been awesome if this whole episode followed Van Alden as he had to deal with playing both sides with the deranged antics of O'Bannion and the compulsive violence of Capone? Seeing him play the deadpan straight guy in the middle of these two gangsters would be both insightful and entertaining. Of course this would only really work if were given the right amount of time (say an episodes worth instead of five minutes).
Novel Notices
– I actually found the dealings of Dr., Narcisse in "All In" to be fairly uninteresting. I hope it was just this episode, but I'm starting to feel that unlike Gyp Rosetti, Dr. Narcisse feels like a one-note villain.
– Kessler's singing and general drunkenness with Ralph Capone was priceless. I hope this isn't the last we'll see of the two together.
– I don't know how to feel about Kessler being picked up by Agent Knox. Knowing Kessler, he will never say anything to hurt Nucky. We'll have to see more to have a better opinion on it.
– Unlike his mentor Rothstein, Meyer Lansky seems to have played his cards right. Becoming Nucky's partner in the Tampa deal should mean big business for him, but as a notorious man once said: "Mo Money Mo Problems."
"All In" = B