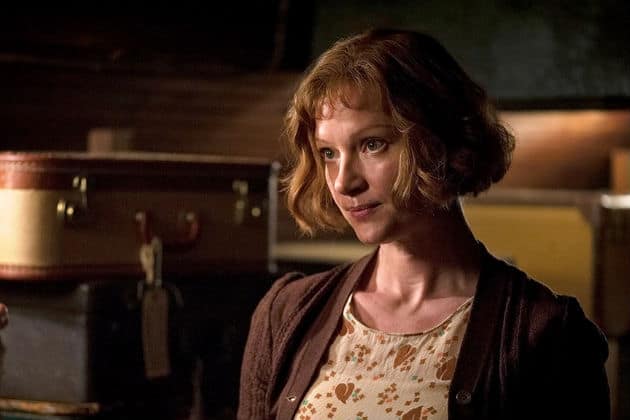 Nucky Thompson wants to retire from his life as a gangster. The only question is what will retirement look like for Nucky? Will he follow in the footsteps of Johnny Torrio or will he end up in a grave right next to Joe Masseria? If Luciano, Lanskey and Siegel have it their way, it's certainly going to be option two.
That's right–as myself and I'm sure many of the rest of you suspected, Charlie and Meyer are working together and were behind not only the hit on Masseria but the plan to kill Nucky as well. It appears that the team of Luciano, Lanskey, and Siegel will be this season's "big bads" of sort on Boardwalk Empire, as they seem to be the biggest obstacles that appear to stand in Nucky's way as he tries to retreat from a life of crime.
However, these up-and-coming gangsters aren't the only people that are causing issues for Nucky–he also faces problems from the rich business men of New York who can't be convinced to partner with him on the Bacardi rum deal, an operation that Nucky cannot finance by himself since the Depression hit. Only one of the men, the historically well-known Joe Kennedy (Matt Letscher), agrees to move forward with Nucky, giving him a small victory in an episode where he's not only suffering major losses in the present but also in the past.
In this week's flashbacks to Nucky' younger days in Atlantic City, we begin with the death of Nucky's sister, Sue, whom he showed so much love and care for in the season premiere. Yet while Sue's death is tragic in its own right, it exposes an even sadder truth–that Nucky, due to the emotional abuse of his father, is in fact homeless. The only place that feels right for him, that makes him feel special or safe, is on the front porch of the Commodore's house, where he sweeps and gets paid a dollar but also gains more insight into how he can become as wealthy and as a powerful as the men he serves.
There's a nice parallel between the present day storyline and the flashbacks, which both show Nucky as a lost boy, in a way, searching for some type of home and purpose. For young Nucky, it's the possible escape that the Commodore and his business could provide for him. While for the Nucky of 1931, it's finding some peace of mind by becoming a legitimate businessman, or finding peace in a less appealing destination–a coffin buried six feet under the ground. The stories of where Nucky ends up and how he finds his way there, in both the past and present, are crystallizing nicely and are definitely managed better in this second episode (because Nucky is more active here than he was in the premiere, and if Boardwalk Empire wants to continue to double down on Nucky during this final season and make it somewhat interesting, he's going to have to be a more active character) than they were in the premiere.
Elsewhere in "The Good Listener," we are reintroduced to Capone, Eli, and Van Alden. Capone (who now sports a couple of nice scars on his face) has become a national celebrity, even landing himself an interview with Variety. The past seven years haven't been good to either Eli or Van Alden, however, as the younger Thompson brother finds himself a drunken, stinking mess, while Van Alden is trapped in a loveless marriage where he neither has the time or patience for his children and wife. Yet, even at their worst, the two men make for a very interesting and entertaining duo, especially during this episode, as their attempts to get the money that they owe Capone lead to one of my favorite Van Alden moments of all-time, as he yells out, "WHY MUST IT ALWAYS BE PANDEMONIUM?"
Not enough has happened just yet in these first couple of Boardwalk Empire episodes for me to agree with Van Alden. However, with six episodes remaining in the show's run, I'm expecting there to be much pandemonium waiting around the corner, and "The Good Listener" did a very good job of setting the table for the insanity that is sure to come.
Other thoughts:
– We also catch up with Gillian and Eli's son Will in this episode. Gillian is in some type of mental hospital for the criminally insane and is giving the warden access to her old wardrobe in exchange for paper and a pen. The mysterious question remains: who is she writing to? Meanwhile, Will is trying to join the U.S. Attorney's office, but it remains unclear what exactly his intentions are. Will may be spying for Nucky or he could be attempting to enact vengeance on his uncle, blaming him for all the crime and violence that tore apart his family and sent his father to Chicago.
– Eliot Ness is introduced in this episode, but even more interesting than that is the fact that fed Mike D'Angelo has gone deep undercover into Capone's organization.
– We now know why Ethan Thompson hates the Commodore so much. He believes that the Commodore cheated him on a land deal that the two made together.
– The closing scene of this episode was fantastic (especially that Havana postcard), as was the nice callback to Billy before Nucky had his bodyguard take care of Tonino, who ended up on Charlie and Meyer's front step with, of course, his ear missing.
What did everyone else think of this week's episode of Boardwalk Empire?
Photo via HBO