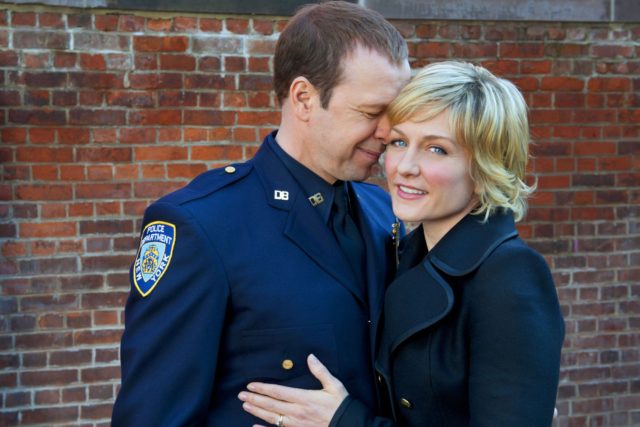 Who out there in TV land would ever think that we'd see Jane Rizzoli's (Rizzoli & Isles) mom (Lorraine Bracco) firing Frank Reagan (Tom Selleck)? Well, believe it or not, it really happened on CBS September 29 during the premiere of Season 8 of Blue Bloods. And, actually, that wasn't even the biggest shock of all either.
Linda's Gone
During the show, we discover (albeit rather slowly) that Danny's lovely wife Linda died in a helicopter crash while performing her duties as a nurse and attending to a patient who was being transported. She was a great character and we'll miss her. Meanwhile, Danny's not handling her death very well and, to top it all off, somebody torched his house so he and the boys end up moving in with Frank and Grandpa.
Frank's Right Again
So, why is the mayor firing Frank anyway? Well, it revolves around a young beat cop who killed an unarmed woman who was shoplifting. As usual, Frank stood behind his officer and, as it turns out, he was absolutely right. The autopsy on the dead woman showed that she was super-high at the time and attacked the young officer. So, the mayor has to eat some crow and Ms. Bracco does a beautiful job of apologizing to the Comish.
Jamie & Eddie Go Undercover
Meanwhile, Erin's ex-husband is stabbed in his office and Danny catches the case, which is exactly what his sister wanted. He is, after all, the best at what he does and, of course, he gets the bad guy through the use of some excellent police work. Erin is by his side and there are a few tender moments that make us wonder if a reconciliation could be in their future. On the other side of town, Jamie and Eddie are called to a local nightclub for an overdose and find the patrons dropping like flies. Several of them die from the tainted drugs that a sleazebag was circulating thru the club. The partners go undercover as potential buyers to bust the guy and are successful.
A New Home for Danny
The final scene of the show unfolds when Erin and Jamie pull up in front of a nice new house and tell Danny that they're visiting an old family friend but he doesn't want to get out of the car. After a little coaxing, Erin takes the reigns and simply orders him to get his butt out of the car. He begrudgingly climbs out of the back seat and they go inside.
The entire family is there waiting for Danny to tell him that this is his and the boys' new home. The dining room table is all set for one of those famous Regan family dinners, so they all sit down together. It's a touchingly beautiful scene where Frank opens up about what a beautiful giving person Linda was and also about how hard it was for him when his wife passed away. He explains that it was his kids who kept him going because they were there for him. I know there wasn't a dry eye in my house. Then, Frank asks the boys to say Grace but Danny tells him that he wants to do it.
"Bless Us Oh Lord"
If you're an Irish Catholic, too, those are words that you'll never forget as long as you live and they're an integral part of every week's episode of Blue Bloods. Hearing Danny say them had an even bigger impact than usual because it signaled his acceptance of Linda dying while doing what she loved and that he still had his wonderful family to lean on.
Tell us what's wrong with this post? How could we improve it? :)
Let us improve this post!