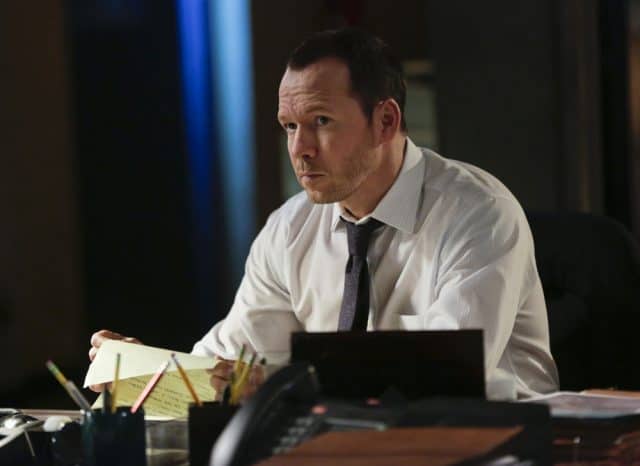 When Blue Bloods returns for its 7th season, the Reagans will meet a Soprano. Don't worry, this time around no wise guys are actually involved. The Sopranos veteran Michael Imperioli will guest star in the season opener as Michael Lewis, a prosecutor for the State's Attorney General. Lewis will be tasked with investigating Detective Danny Reagan regarding the events of the Season 6 finale.
At the end of last season Danny had to rescue a member of his family when niece Nikki was taken by serial killer Thomas Wilder to punish Danny. Nikki was found safe thankfully, but the cat-and-mouse standoff Danny had with Wilder ended in Wilder purposely making a move so that Danny would react in self-defense. Wilder didn't have a gun, but acted like he did with the parting words "I'm never leaving the inside of your head." Unfortunately, when the series returns, Wilder seems to have succeeded a bit. Imperioli's character Lewis brings new evidence which he believes proves Danny murdered Wilder for revenge. We all know how well Danny Reagan reacts when he has to defend his actions to a lawyer, even when the truth is on his side.
Imperioli won't just be interacting with the Reagan clan, he'll be running in the same circle as a former 'family' member. Fellow Sopranos vet Steve Schirripa has been playing the recurring role of ADA Investigator Anthony Abetemarco on Blue Bloods since Season 6, though it's unclear if Imperioli and Schirripa's new roles will interact very much. It will be nice to see Imperioli in a role on the right side of the law this time around, even if he'll be pushing some pretty big buttons.
https://www.youtube.com/watch?v=Ucm0HvN1YcI
Blue Bloods returns to CBS Friday, September 23 at 10pm.
Tell us what's wrong with this post? How could we improve it? :)
Let us improve this post!